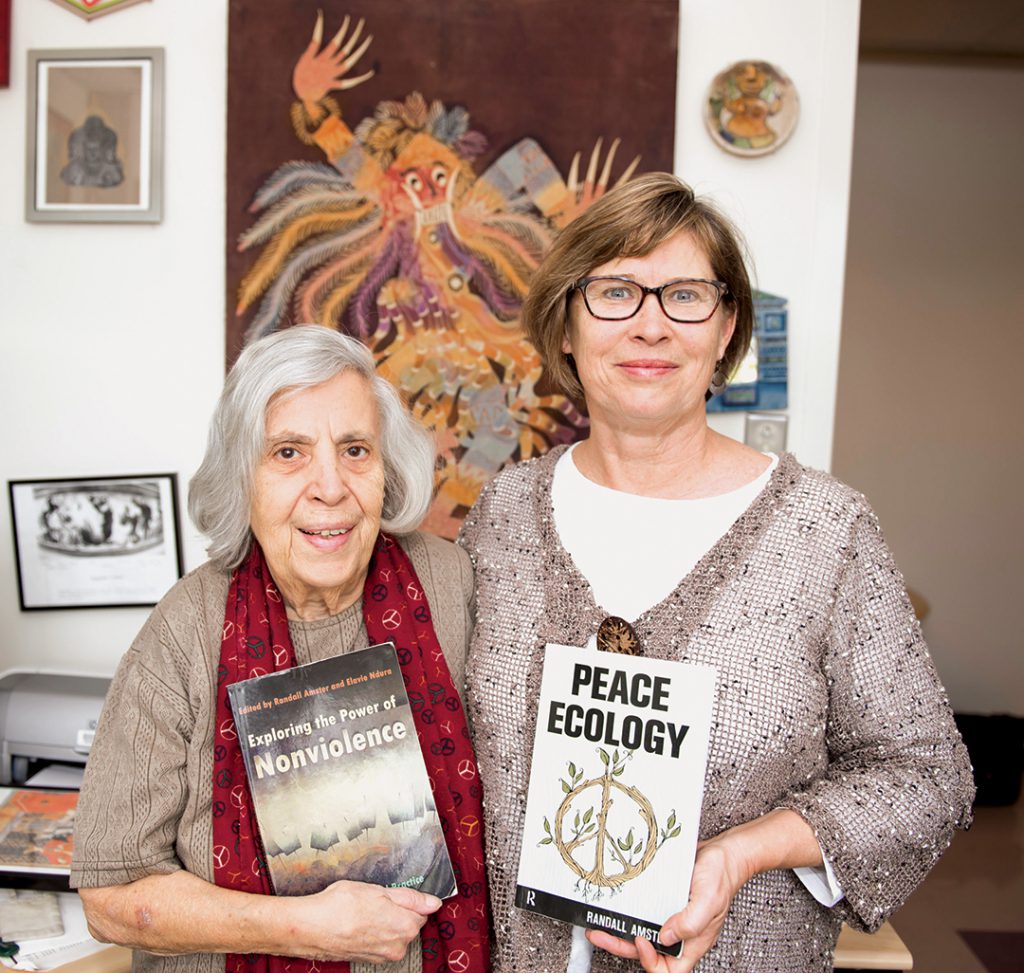 One week after the deadly school shooting at Marjory Stoneman Douglas High School in Parkland, Florida, Professor Pat Ruppert asked her philosophy class to comment on the Parkland students' activism. In a closed, online forum their conversation—like many across the country—held opinions ranging from anti-gun to pro-Second Amendment. But Ruppert noticed a glaring difference between her students' interactions and what she saw on social media and television.
"The students were civil, thoughtful, respectful, deep, engaged, and passionate," Ruppert says. "What we learned from each other was how to have a conversation without hurting each other."
Ruppert is among a cadre of faculty, staff, and students at MC that promote peace through education and practice. Organized as a grassroots initiative in 2005, the Peace and Justice Studies Community* is the driving force behind many on-campus events that promote human rights and equality.
Community collaborators have brought renowned peace activists and heads of international organizations to campus. Arun Gandhi, fifth grandson of Mohandas K. Gandhi, spoke at Germantown in 2013. David Killion, US Ambassador to UNESCO, spoke in 2011 about the role of the United Nations and UNESCO in building peace. In 2007, Mpho Tutu, daughter of Bishop Desmond Tutu of South Africa, gave a presentation on forgiveness and reconciliation to the college community, and taught a master class on conflict resolution through forgiveness and reconciliation.
Each fall, Ruppert co-organizes a Hunger Banquet event, based on the Oxfam America initiative in which participants experience the world's food distribution inequities firsthand. At a Hunger Banquet, 15 percent of participants receive a full meal, 35 percent eat beans and rice, and 50 percent sit on the floor and eat a small amount of rice and water. The meal distribution is determined by a random drawing. An in-depth discussion afterward engages the group to explore strategies to ease hunger in their own communities and across the world.
"Our pattern is to do the Hunger Banquet in the fall just before Thanksgiving," Ruppert says. "The hunger banquet from last year, 'In Harm's Way: Understanding Families Seeking Refuge,' focused on Syrian refugee families, with keynote speaker Daphne Levitas telling the story of how she and her Cheverly, Maryland, community adopted a Syrian refugee family. We found older simulations from the United Nations High Commission on Refugees that we used as a template for a scenario that was relevant to a current crisis. We had 120 people participate in 12 groups of 10."
Peace is also part of the MC curricula. Courses like Introduction to Human Rights, Introduction to Peace and Justice Studies, and Introduction to Global Humanities lead students toward a better understanding of human rights, or lack thereof, in the modern world. Professors accomplish this through lessons on cultures and societal differences, basic legal concepts, international humanitarian law, and current events, including a focus on parts of the world where critical human rights problems persist. They spend significant class time on com-munity service activities.
"What we talk about in this class is important, it is crucial, but if it doesn't connect to what's going on outside our class, out in the world, then it is irrelevant."
—Professor Patricia Ruppert, Introduction to Philosophy (PHIL 101)
But no conversation about MC's peace programs would be complete without mention of philosophy Professor Tulin Levitas, who has written curricula for honors tutorials and Introduction to Peace and Justice Studies. Levitas has devoted years to studying peace, beginning with a 2004 trip to South Africa.
"In South Africa," Levitas says, "I learned about the work that the Truth and Reconciliation Commission did to bring closure to the apartheid system and support the South Africans to move on as a unified people in their country. [It] constituted an epiphany for me, for I became acquainted with an alternative resolution to conflict—that of compassion, forgiveness, and reconciliation."
In 2013, Levitas took sabbatical to study with local peace activist Colman McCarthy. She has also studied with Zen Buddhist monk Thich Nhat Hahn, attended the Peace and Justice Studies Association annual conference, and participated in peace-building seminars with David J. Smith that focused on peace, conflict, and international affairs.
"My personal motivation in developing the courses at Montgomery College is that I want to offer an alternative narrative to violence: that of nonviolence and peace.
I want to focus on our common humanity, brotherhood and sisterhood, collaboration rather than competition, with the goal of creating a better world for ourselves, our children, and our grandchildren."
The Introduction to Peace and Justice Studies course is offered every semester.
Ten to 15 students typically enroll. Levitas says they are "as diverse as the Montgomery College students in terms of their ethnicity, race, religious background, and age." Ruppert adds, "Students in that class often have firsthand experience or knowledge of strife, oppression, and war. They are seeking a better world."
*The Peace and Justice Studies Community at MC includes administrators, faculty, staff, and students in the Humanities Area, the Paul Peck Humanities Institute, the World Languages and Philosophy Department, the Women's and Gender Studies Program, Smithsonian Fellowship Program, Boys 2 Men, the Global Humanities Institute, the Honors Program, Global Nexus, MC Libraries, Counseling and Advising, and Office of Student Life.
Speakers hosted or co-hosted by Peace and Justice Studies Community at Montgomery College
(as of spring 2018)

Randall Amster, Georgetown University, professor and director of the Program on Justice and Peace, and former executive director of the Peace and Justice Studies Association (National)
Arun Gandhi, fifth grandson of Mohandas Gandhi
David Killion, US ambassador to UNESCO
Manjula Kumar, program director, Smithsonian Institution, Washington DC
Daphne Levitas, Esq., community activist for resettlement of Syrian refugees
Colman McCarthy, director, Center for Teaching Peace
Alli McCracken, CODEPINK representative
Ralph Nader, consumer advocate, US presidential candidate, peace activist
Daoud Nassar, director, The Tent of Nations, an international peace center in the West Bank
Steven Roberts, American journalist
Cathy Lisa Schneider, Jewish Voice for Peace
David Smith, former program director, US Institute of Peace
Mpho Tutu, daughter of Desmond Tutu and director, Desmond & Leah Tutu Legacy Foundation
Photo Credit
Pete Vidal