On almost any street corner in America, you will find a restaurant. It has become a staple of family eating, attracting more than 130 million people each day. But as the recession has hit wallets and pocketbooks, the industry has been challenged. MC alumni restaurateurs turn the tables in a down economy continuing to satisfy patrons as best as they can. But it's tough.
"Real sales growth [has been] running negative for three consecutive years for the first time since we started tracking it four decades ago," says Annika Stensson, media relations director of the National Restaurant Association. "However, due to their resilience, restaurants are getting through it."
Just ask Marichu "Cho" Ortega '05, owner of Lumpia, Pansit, atbp. "I thought we weren't going to survive … We had to cut hours of the staff. Without my family, I don't think the restaurant would be here anymore."
Daughter Marie Ortega '08 believes serving Filipino food, unique in the Washington, D.C. market, has also helped. She has seen customers drive all the way from Baltimore and Pennsylvania to sample their dishes.
"In this area, everyone wants to try new things," says Marie. "You get to learn about the Filipino culture."
Like Lumpia, Pansit, atbp., more than 7 out of 10 restaurants are single operations, and more than 9 out of 10 have fewer than 50 employees, according to the National Restaurant Association.
Panic is the one action that Enzo Livia '82, who co-owns Il Pizzico with his wife Sandra '84, avoided even as sales dropped last year. "If you still do what you're supposed to do," he says, "and continue offering people the best combination of food, flavors, and service, then in the end, you might suffer a little bit." For the Livias, sales have improved from last year. "Things are starting to pick up. It is much better than a year ago," says Sandra.

To improve sales, many owners and staff are turning to social media to attract new customers and to solidify the relationship with existing customers. Tony Marciante '92, chef and owner of Chef Tony's, opened his restaurant right in the heart of the recession and has relied heavily on Twitter, Facebook, his website, and his blog to raise awareness.
"My advice to people is to use the tools that are the most current to connect with people," said Marciante. "It's about connecting. It's not necessarily that Facebook or Twitter or LinkedIn is the only way or the best way; it is a way that is working. As a business owner of any business, you have to be attuned to what is working now and in the future."
For Daniela Jaramillo '08, social media can be both good and bad. By buying Sol de España in Rockville, Md., Jaramillo and her fiancé Daniel Arana had a built-in customer base. They want to expand that base, so Jaramillo uses Facebook, Twitter, and OpenTable.
"Not only does the recession make things difficult, technology also makes it hard," says Jaramillo. "Technology can be your friend and your enemy. Everyone can write reviews. Now, not only does a dissatisfied customer tell his friend, he tells the world."
Now in his 42nd year operating Stoney's Bar and Grill in Washington, D.C., Tony Harris '60 has seen his share of reviews and says it is all part of the business.
"Hopefully, you can make 95 percent of the people happy. You're not going to please 100 percent of the people all of the time. You strive for that, but you're not going to do it."
Since founding Stoney's in 1968, Harris has since partnered with others to open Tunnicliff's Tavern, and he continues to look for opportunities. He credits good food and good service with helping him succeed.
"I still enjoy the activity," he said. There's not a day that I get up in the morning that I don't want to come in. When that happens, it's time to get out of the business."
Bob Kiebler '77 agrees. After working in French restaurants, country clubs, and now Morton's The Steakhouse, he still enjoys his job. "I know restaurants the way that mechanics would know a car."
"I stay here [at Morton's The Steakhouse] because it's a great company to work for," he pointed out. "It's first class."
Even at Morton's, which was founded in Chicago in 1978, Kiebler has seen the restaurant adapt to changing times, moving from heavier sauces to lighter menu items such as salads. What hasn't changed is, what Kiebler calls, his own "passion to serve." He believes anyone in the business needs this personality trait to succeed.
That passion often translates directly into customer loyalty, which is evident when you step inside Cuban Corner, located just steps away from Montgomery College's Rockville Campus and co-owned by Joaquin Cabrejas.
"There are customers who come every weekend," said Jessica Cabrejas '10, who works at the restaurant owned by her parents. "They just love our food, and they love our family atmosphere. There are customers we greet with a hug and a kiss."
Visitors to Cuban Corner learn about the Cabrejas' Cuban ties from the 600 plaques lining the walls, which honor successful Cuban emigrants. Joaquin Cabrejas himself was exiled at age 11.
"I always make an effort to show people that Cuban-Americans are basically political refugees. I started with one plaque … it's become very well known. Many members from the Cuban diaspora call me from all over the globe," says Cabrejas.
Every one of these Montgomery College alumni have learned to innovate to stay afloat. "It's not that easy," says Tony Harris. "Hopefully, we take enough in the front door, pay out the bills through the back door, and grab a little as it goes by."
—Elizabeth Homan
---
Perfect Pairings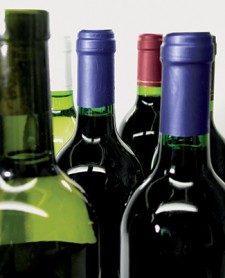 As any chef will tell you, each food should complement other parts of the meal, including the wines. In the wine business, we suggest planning a meal—from appetizer, to entrée and side courses, to dessert—like a workout at the gym. The wine and food courses should follow a sequence that builds to a crescendo, then finish with a satisfying cool down.
A good rule of thumb in pairing food with wine is still: white meat with white wine, and red meat with red wine. There are, however, exceptions to the rule. Slightly sweet wines can balance spicy foods, such as Chinese or Indian dishes. Crisp wines can balance thick, creamy sauces. A big buttery Chardonnay might match fine with a turkey or duck, and a spicy Cabernet Franc may stand up fine to a blackened fish.With dessert, consider matching it with a dry wine. Chocolate, for example, goes great with Merlot. Merlot is fruity and jammy; it can calm down a very sweet dessert. When serving a decently sweet ice-wine, match it with a mild cheese or a tart apple to moderate the sweetness.
Remember temperatures. Whites taste best chilled to 45 degrees; reds' optimal temperature is about 60 degrees. Open your reds a half-hour before service to aerate. As a home chef, you can discover great food and wine combinations by experimenting. And, local wineries usually offer wine tastings full of information about foods to pair with each wine.
—Carol Wilson '73
---
Carol Wilson is co-owner and marketing director of Elk Run Vineyards in Mt. Airy, Md. Since founding the winery in 1983 with her husband, Fred Wilson, and Neill Bassford, Carol has organized and taught numerous educational programs at the winery.
---
This article first appeared in the fall 2010 issue of Insights.