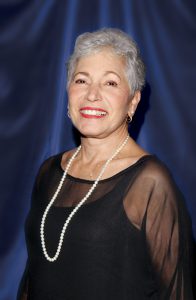 Professor Emerita Myrna Goldenberg's latest book, Before All Memory Is Lost, received the 2017 Canadian Jewish Literary Award in Holocaust literature. One juror called the book "remarkable."
"It was a kind of joy to shine a spotlight on the survivors—some are still living—and to share the book with survivors' families," says Goldenberg.
Before All Memory Is Lost is a series of memoirs by women Holocaust survivors who moved to Canada after World War II. The writings were translated from their original Russian, Polish, Yiddish, and "every other Slavic language you can think of," says Goldenberg. They were preserved by the Azrieli Foundation, a Canadian philanthropic organization founded by David Azrieli, a Holocaust survivor who emigrated to Canada.
"Fact-checking was rigorous," says Goldenberg, who is a Holocaust scholar and subject matter expert on American Jewish women's literature and history, gender and hunger during the Holocaust, and education. "Names have changed since 1943, when these were written, including names of places and prisons, especially in Russia, where many of the women were held. Records there were closed until the Iron Curtain came down."
Goldenberg selected entries for the book—memoirs and poetry—from more than 40 original manuscripts. Each entry is less than 50 pages. The writing, she says, is vivid. Although they contain details of starvation, abuse, and rape, there are positive notes, too.
"It was so important to maintain the original writing," says Goldenberg about the editing process, "so readers would feel like they are secondary witnesses to what happened."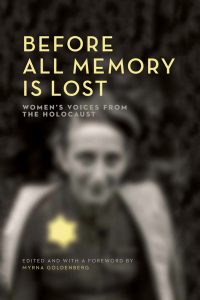 Survivors' relatives, who were part of Goldenberg's information vetting process, have cheered the book for honoring their family members. Nine of the surviving writers attended the book-launch events in Toronto and Montreal last March, where Goldenberg was key speaker.
Goldenberg has taught higher education courses on the Holocaust since 1983, a time when relatively few US scholars were invested in Holocaust research and teaching.
"The Holocaust is a subject that keeps going and going," says Goldenberg. "In light of recent events where neo-Nazis held a torch-light parade and wore swastikas, we need to understand that people still have reason to fear and to get angry. It has to be taught."
---
More About Dr. Myrna Goldenberg
During her 32 years at the College, she was a founding faculty member of the women's studies program and was the first director of the Paul Peck Humanities Institute. She has edited numerous books and penned more than 40 articles. Notable works include: Experience and Expression: Women, the Nazis and the Holocaust (co-edited), and Different Horrors, Same Hell: Gender and the Holocaust (co-edited).
Photography by Don Rejonis