Part one of a two-part series celebrating Montgomery College's 70th Anniversary.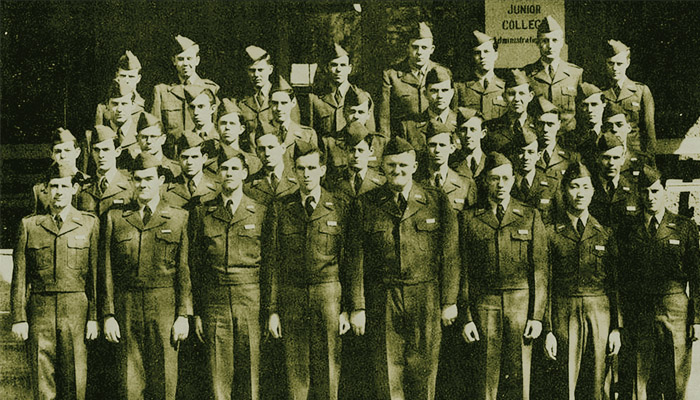 "Veterans… included some of the best students I ever had in a class. They were serious about their education. They were older and more mature than those coming straight from high school.… Courses that might prove difficult for them were not evaded or dropped…The interaction of dedicated people, faculty and students, resulted, I like to believe, in a firm mutual respect which made teaching and learning a gratifying experience."
—Professor Allen H. Jones, From Acorn to Oak
On September 16, 1946, Montgomery Junior College held its first classes in the evenings at Bethesda-Chevy Chase High School with a student body of 186 students (151 men and 35 women), and eight faculty, including its first administrator, dean Hugh Price. Tuition in 1946 was $150 per semester for county residents and $175 for out-of-county students. Classes had to be held after 4 p.m. on weekdays after high school activities concluded, and on Saturday mornings. Many of the College's first students were World War II veterans.
Events on the world stage a year earlier predicated the College's rapid launch in 1946. Germany surrendered on May 10, 1945, followed by Japan's surrender in September that year. With the war essentially over, the US armed forces started to dismantle operations in Europe and the Pacific. More than 12 million service men and women in international theatres queued up for demobilization. With the GI Bill (Serviceman's Readjustment Act of 1944) signed into law by President Franklin D. Roosevelt in June 1944, many returning veterans had something they never had before: the ability to pay for a college education.
More than two million veterans enthusiastically claimed their higher-education benefit. As a result, universities and colleges across the country quickly filled to capacity; nonveterans, women, and recent high school graduates were often left to seek employment or delay college goals.
To increase opportunities for all Marylanders, Governor Herbert R. O'Conor appointed a Commission of Higher Education to establish two-year public institutions, "a chain of junior colleges throughout the state." An ad hoc committee identified a need for a junior college in Montgomery County. With a $10,000 grant from Maryland's Department of Education, and matching funds from Montgomery County, the county's Board of Education acted quickly to open Montgomery Junior College for the fall semester—just months after receiving funding.
More than half of the students who enrolled at MJC that first fall semester were veterans. Their numbers bestowed an important benefit to the College: it qualified for war surplus supplies under the Veterans' Educational Facilities Program.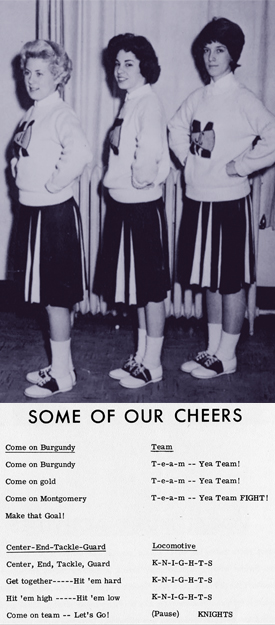 Culling goods from government lists, MJC furnished and equipped classrooms and laboratories. Items included: an auto-clave, instrument sterilizers, thermometers, typewriters, adding machines, tables, chairs, and desks. "[Goods] came through to College Park in box cars on long freight trains and were stacked on the station platform," recalled founding faculty member Dr. Bernice F. Pierson in a written history of the College.
During the summer months leading up to its opening, Pierson recruited for the new school by posting announcements and going door to door to homes of recent high school graduates. "We spent a good deal of time pinning notices of biology and other subject offerings on the bulletin boards of the National Institutes of Health and the US Navy Medical Buildings."
MJC's first students chose from 10 academic programs, including transfer programs with courses typically offered in the first two years of a baccalaureate degree (pre-medicine, pre-dentistry, pre-law); terminal programs comprising "technical-occupational" courses (secretarial and business); and "courses of a general cultural nature," (art, music, and liberal arts).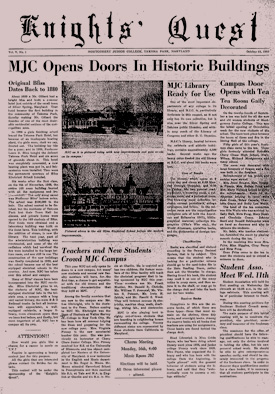 Established as a night school, the College adopted the moniker, "Knights," for its athletic teams and newspaper (Knights Quest). Extracurricular activities that first year included Drama Club, Variety Club, "M" Club, Swimming Club, varsity basketball, varsity football, and cheering squad. The school's first official colors were burgundy and gold.
Enrollment doubled when the College added a sophomore class in 1947. Dean Price acquired two military surplus structures, "BOQs" (bachelor officers' quarters) relocated from Fort Washington. The structures housed biology and chemistry labs, faculty and administrative offices, a bookstore, and a student lounge.
In 1948, 25 graduates received associate of arts degrees at the College's first commencement ceremony. According to the Office of Institutional Research and Analysis, more than three quarters of a million students have taken at least one course at MC since 1946. Today's enrollment averages 60,000 annually, including credit and noncredit students of all ages.
—Diane Bosser
Sources: From Acorn to Oak and "MC History" Dr. Tom Walker '57, history professor; "The Montgomery County Story," by William C. Strasser Jr. for Montgomery County Historical Society, quarterly, August 1992. Montgomery College, Maryland's First Community College, 1946–1970, William Fox.
---

1946 Pop (Culture) Quiz
1. Who was US president in 1946?
a) Harry S. Truman
b) Franklin D. Roosevelt
c) Herbert Hoover
d) Dwight D. Eisenhower
2. Who was the country's vice president in 1946?
a) Harry S. Truman
b) No one
c) Theodore Roosevelt
d) Henry Wallace
3. Which of these events also occurred in 1946?
a) First meeting of United Nations general assembly
b) Winston Churchill's speech warning of "cold war" with Russia
c) St. Louis Cardinals won the World Series in baseball
d) The US Army made radar contact with the moon for the first time
e) All of the above
4. What was life expectancy in the US in 1946?
a) 66.7 years
b) 77.94 years
c) 59.7 years
d) 62.9 years
5. Which products were introduced to US consumers?
a) bikinis
b) Tupperware
c) bank-issued credit cards
d) ranch-style homes
e) all of the above
6. Which film won the Oscar for Best Picture in 1946?
a) It's a Wonderful Life
b) The Razor's Edge
c) The Yearling
d) The Best Years of Our Lives
e) none of the above
7. Which book was a national best seller?
a) The Common Sense Book of Baby and Child Care by Dr. Benjamin Spock
b) Hiroshima by John Hersey
c) All the King's Men by Robert Penn Warren
d) Brideshead Revisited by Evelyn Waugh
e) all of the above
8. Which Broadway show opened to critical acclaim in 1946?
a) The King and I
b) Peter Pan
c) Brigadoon
d) Porgie and Bess
e) Annie Get Your Gun
9. Which medical item became widely available for the first time?
a) adhesive bandages
b) aspirin
c) penicillin
d) syringes
e) all of the above
10. Which hit artist and song topped the Billboard music chart in 1946?
a) Frank Sinatra "Five Minutes More"
b) Bing Crosby "White Christmas"
c) Perry Como "Prisoner of Love"
d) The Andrews Sisters "Boogie Woogie Bugle Boy"
e) Dinah Shore "Baby It's Cold Outside"
---
Answers: 1a 2b 3e 4a 5e 6d 7e 8e 9c 10c