At 6 a.m. on a bitter-cold Saturday morning in February, Ed Riggs '69 is behind the wheel of his Honda Civic for the hour-long drive from his home in Maryland to Liberty Mountain Resort in Pennsylvania. As a senior member of the ski patrol team, he will spend the day monitoring the mountain, preventing accidents, and instructing new patrol officers. It is a seemingly exhausting routine, but one Riggs has repeated every Saturday, Sunday—and Monday—for well over two decades—because he says, there is nothing else like it.
"You are outdoors. The air is very clean and crisp. We get to the mountain top in the morning—and it's a beautiful sunrise. That's what it is all about."
Those snowy Pennsylvania mountains are a long way from the classroom where Professor Riggs spends the rest of the week. He teaches digital photo editing and restoration courses and serves as chair of the Media Arts and Technology Department at Montgomery College. Riggs, who has been teaching at the College since 1979, was recognized for his dedication to MC with the Milton F. Clogg Outstanding Alumni Award. His students—and some of his colleagues—have no idea that he has a second career on the slopes.
Riggs is quick to point out his two jobs are not so different. He spends much of his weekend training other patrol members on ski techniques and emergency medicine, and he has published materials on training and mentoring ski instructors. "Everything we use here at Montgomery College, we use there: Bloom's Taxonomy and outcomes, for example [a classification system teachers use to gauge levels of learning]. It is all the same principles."
Steve Sobolewski is the ski patrol director at Ski Liberty, but when he first joined the team, Riggs was his instructor. "He was excellent. His teaching abilities from the classroom made him a good instructor for sports."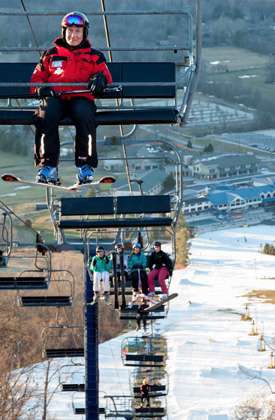 Riggs's passion for skiing, like teaching, is evident. "He's been around for many years, but still goes to classes to maintain his competency level," Sobolewski says. "I am in charge of 140 patrollers, but very few are as dedicated."
Riggs learned to ski in his twenties, and from there his enthusiasm grew. "I am very active so winter time posed a real issue, and essentially that drove my passion for skiing." He quickly realized skiing can be an expensive sport, so Riggs decided to become a part of the industry. "I settled on ski patrol because I thought, well here's an opportunity. I can learn more, help people, and still enjoy doing what I love."
On a busy weekend day, Riggs says there may be up to 30 visitors who need first aid for everything from knee and shoulder injuries to frostbite and hypothermia. Ever the instructor, he says there a few simple things everyone can do to prevent these common injuries. Skip the blue jeans and wear waterproof clothes. Learn the basics including stopping, falling safely—and yes, how to get up. And a strong core and strong legs are a must for skiers, especially as they advance to more expert terrain.
And the professor practices what he teaches. Riggs bicycles during the summer, and in preparation for the ski season spends time in the gym working almost exclusively on his legs. "I try to get to the point where I can do squats with 400 pounds, 100 times (ten sets of ten)," says Riggs, who is in his sixties.
Even after all these years—and a few injuries including separated shoulders and a damaged "gamekeepers" thumb (also known as skier's thumb or UCL tear)—Riggs still finds new challenges on the slopes and has no plans to slow down. While he admits to being a bit tired on Tuesday mornings—his shift Monday night lasts until well after 10 p.m.—Riggs says a day skiing on the mountain is invigorating.
These days he is attracted to mogul skiing. "No matter how good you are, you are not going to have a perfect mogul run. Two years ago, I cracked two ribs skiing moguls, but I just have to do it."
And this winter will be no exception. Riggs plans to be back on the mountain for as long as the season lasts and—slipping back into his role as a teacher—encourages everyone to join him. "I have friends who are over 80 and they still ski. We have blind skiers visit nearly every week and wounded warriors, too. It is never too late to learn, and anyone can do it."
—Fritzi Bodenheimer