As a kid, biology major Michael Parsons told his mother he wanted to play ice hockey. She agreed but insisted he learn to figure skate first so he would have strong skills on the ice. He has not stopped skating since. At the 2016 World Junior Championship, Parsons won the silver medal for ice dancing with his sister and partner, Rachel.
Parsons was not the only MC student on the medal stand that day. The gold medal went to Quinn Carpenter and his partner, Lorraine McNamara. Carpenter is a mechanical engineering major, and he and Parsons are good friends—and competitors.
"Unlike other sports, skating is not you against the other person. When you do your program for the judges, you are not doing it with the other teams on the ice. It's you and the judges. So we can keep our friendly relationship and still compete as hard as we possibly can," says Parsons.
To get ready for those competitions, Parsons and Carpenter have jam-packed days—and nights—juggling classes, workouts, and rehearsals. They joke that anything past 6 a.m. is considered sleeping in. Most days they practice early in the morning, take classes, and head home to study, eat and, if time allows, a nap. Then it is back to work.
In addition to practice on the ice, the skaters also do strength and endurance training, and take ballet several times a week. And that's not all.
"Every year our routines incorporate different rhythms and dance styles, which we have to perform on the ice. So we supplement with ballroom or other dance training, and then put those kinds of movements on the ice," Carpenter says.
The skaters must also perform required elements—Carpenter describes them as a "choreographed specific set of steps" that contribute to the technical merit of the program. "Of course you want to make that look as graceful as possible without looking like you are concentrating on it," he says.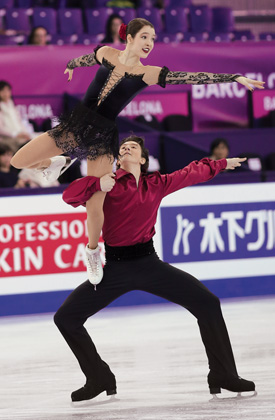 And what about those lifts? "In the beginning when we first learn the lifts, there is a little bit of nervousness because you are getting used to where your body has to be, where you have to hold your partner, where your partner has to be. But once you get used to it, you are repeating the lift hundreds of times over a year, so it becomes muscle memory and you don't really get nervous about it," Parsons says.
Skaters and their partners are the only two people on the ice, but behind the scenes about a dozen people prepare the duos for competitions. The skaters say family members are a huge help. They also benefit from the expertise of a costume designer, a hip-hop teacher, two ballet teachers, one ballroom dance instructor, one gyrotonics (yoga for dancers) instructor, a theater coach, two strength and conditioning experts—and four on-ice coaches.
In addition to the technical training all of the coaches provide, they also give the skaters something else. "I think one of the biggest things we have learned from skating and from our coaches is discipline. That applies to everything—especially academics. You need the discipline to sit down and study if even if you want to go out with friends," Parsons says. "There are a lot of those mornings when you wake up and you just want to stay in bed, but that's just part of it. We have a goal we are trying to reach."
That goal is the Olympics.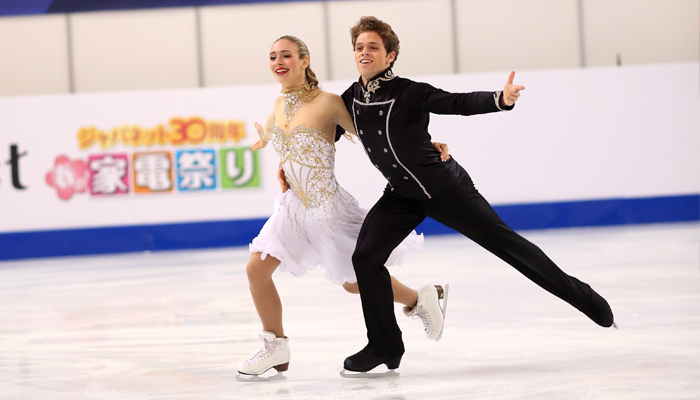 Carpenter says while the games are a big dream for the future, they have to focus on today. "We always remember that as a goal, that place we're trying to go, but of course right now we are concentrating on doing the best we can in the moment—because if you don't improve now there will never be a way to get there."
Still, he adds, "If there is something you are passionate about, if you believe in yourself and love what you do you can go really far with it."
—Fritzi Bodenheimer