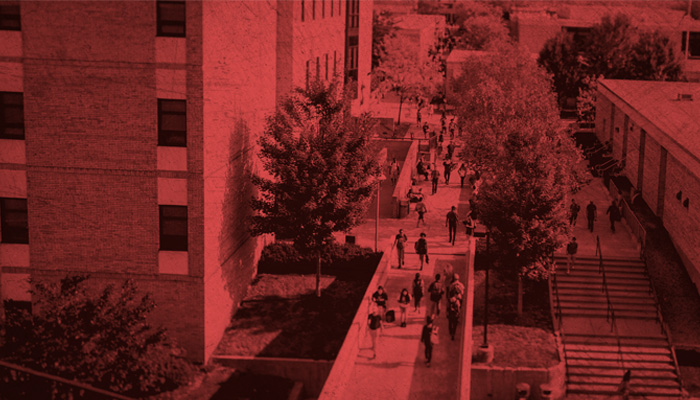 On April 20, 1999, Eric Harris, 17, and Dylan Klebold, 18, shot and killed 12 fellow students and one teacher, injuring another 21, before they both committed suicide at Columbine High School in Colorado. At the time, it was recorded as the deadliest high school shooting in US history. In the 17 years since this incident, more than 50 mass murders at school or college have been committed, killing nearly 150 people. Of these school shootings, occurring at a rate of once a week since Columbine, the shooting at Umpqua Community College in Oregon in October 2015 hardened the resolve of Montgomery College officials to reevaluate campus safety measures and procedures for all three campuses and satellite locations.
In a statement to the College community following the Umpqua incident, President DeRionne Pollard wrote, "This tragedy reminds us, once again, that no campus can be entirely protected against violence. However, the Board of Trustees and I consider campus safety to be an essential part of our community fabric—one that deserves the attention of the state, the county, and campus communities."
"The challenge for us then was to make our locations, which are so much a part of the landscape of Montgomery County, safe for all who enter," says Shawn Harrison, Montgomery College's director of public safety. "To accomplish this, we had to be joined at the hip with our local police departments."
Harrison, a 26-year veteran of the Baltimore City Police Department, Dr. Pollard, and other College officials met with Montgomery County Police Department Chief Tom Manger and other high-ranking officers to discuss security concerns on all three campuses, as well as how the two entities can strengthen their relationship. And police department personnel from the three districts encompassing MC campuses conducted walk-throughs to familiarize themselves with campus and building layouts.
Preparation and Planning
All of the College's campuses have emergency phones and high-resolution cameras in strategic positions. At the walk-throughs, officials focused their attention on creating a "Go Bag" for each campus. A "Go Bag" contains master keys and swipe cards, radios, and other pertinent items beneficial to SWAT teams deployed to an active assailant situation on a campus.
Bob Bolesta, who recently retired as commander of the Montgomery County Police Department's Special Operations Division, says the police department's SWAT personnel work 24/7/365. Centralized and decentralized SWAT team members work in virtually every assignment, on multiple shifts, and in every district of the county. The highly trained officers prepare daily, performing tabletop exercises and field operations, in addition to discussing policy, tactics, and operating procedures with the FBI and other law enforcement agencies.
"There has been a paradigm shift," says Bolesta. "In the more recent incidents, active assailants no longer intend to hold hostages, but rather, they consider their victims doomed captives. These individuals want to increase the standoff, increase the media attention—and increase the fear." Bolesta added that police officers must be prepared for this methodology when responding to active assailant incidents at schools, too.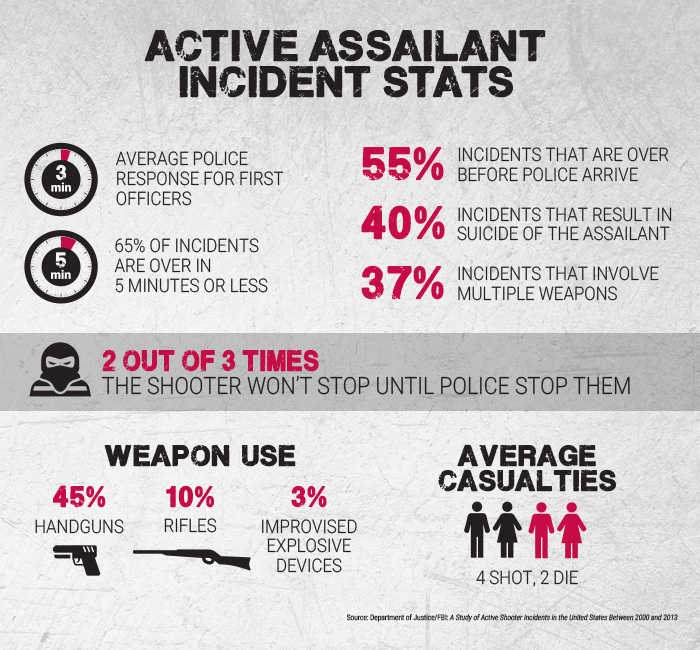 Timely Training
Police and College security personnel agree that quelling the fear includes preparing faculty, staff, and students to respond to an immediate threat. The latest research suggests that, depending on circumstances, individuals should run, or if that is not possible, hide or barricade. When the threat is unavoidable and imminent, they should fight.
Bolesta says 30 Montgomery County police officers have been certified to teach Civilian Response to Active Shooter Events (CRASE). Officers can provide CRASE training to local businesses, private schools, and other community groups that express an interest. And more than 1,500 Montgomery County Government employees have attended the county's Employee Emergency Preparedness Training in the wake of the November 2015 terrorist attacks in Paris. Likewise, Carlo Sanchez, training coordinator for the College's Office of Public Safety and Emergency Management, received certification to teach Alert, Lockdown, Inform, Counter, Evacuate (ALICE) training. Nearly 600 College employees registered for training this year.
When the College's ALICE training kicked off this past May 6, Norma Winffel, a recruitment coordinator on the Germantown Campus, attended the first session. When the training ended, she had a phone conversation, albeit brief, with her husband, Mike, who was on his way to lunch with a coworker from the Naval Surface Warfare Center in Bethesda. Minutes later, Mike Winffel was walking through the parking lot at Westfield Montgomery Mall when he encountered a woman screaming and backing away from a gun-wielding assailant. When Winffel threw himself between the gunman and the woman, the gunman fired a shot into Winffel's chest. Shortly thereafter, the College and the county schools were placed on lockdown.
After two tension-filled hours, College and county officials lifted the lockdown when the gunman, later identified as Eulalio Tordil, was arrested. Police say Tordil had killed his wife the day before and had killed another woman in Aspen Hill, Maryland, just after the Westfield Montgomery Mall incident.
Norma Winffel sent her coworkers an email the evening of May 6. She described the training she had just received, writing, "I personally thought about cancelling because I had 'too much to do.' I'm glad I didn't cancel [the training] because for the first time in a long time, I felt like I had an idea or a plan of action should the threat become real in my building." The postscript was chilling: "Minutes after completing this message, I learned that my husband was killed while trying to help a victim at Montgomery Mall.
While training faculty and staff is critical, students remain the number one priority in the event of an emergency. To that end, Sanchez began ALICE training for students on all three campuses in November. Marcus Rosano, the College's director of media and public relations, says the College also encourages students to visit dhs.gov/active-shooter-preparedness and watch Options for Consideration: Active Shooter Preparedness. In early 2017, the College will wrap up production of a must-watch video on emergency preparedness training that students can watch on their cell phones.
Critical Communication
Rosano underscored the importance of the cell phone—and social media—in an emergency scenario. "We have learned valuable lessons from a couple of on-campus incidents," he says. "One is to communicate proactively, rather than to quash rumors that spread like wildfire." Rosano also encourages students, faculty, and staff to register for Montgomery College ALERT, an emergency notification system that pushes emails and text messages to the community in the event of delays, closures, or emergencies. Nearly 42,000 people have registered for Montgomery College ALERT since its inception in 2007.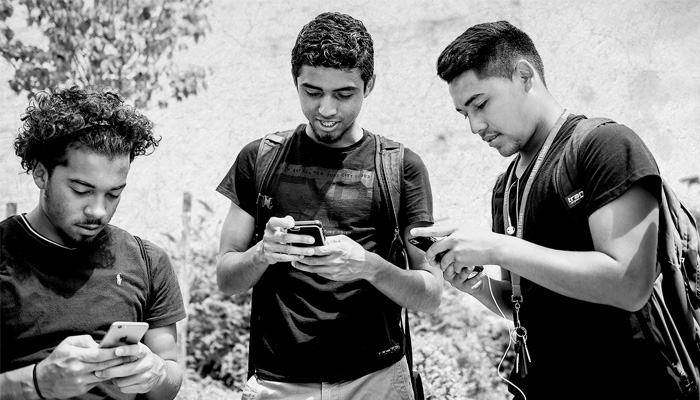 To reinforce campus alerts, the College teamed with Montgomery County's Office of Emergency Management and Homeland Security and its Alert Montgomery emergency notification system. The mass notification system, a large-scale alert system, enables the College to send real-time notifications to individuals or groups using lists, locations, and visual intelligence.
Rosano says social media monitoring is also effective as a deterrent. The College's Office of Communications peruses social media and subscribes to a 24-hour media monitoring service releasing detailed reports of all mentions of Montgomery College in the news and on social media. Rosano and the communications team report any perceived threat, expressed or implied, to the College's Behavioral Intervention Team (BIT) and to the police.
BIT teams—collegewide and campus-based—comprise deans, counselors, faculty, and safety and security staff. They review reports of behavior of concern, assess levels of threat, and make referrals to administrators, counselors, or mental health professionals. The BIT team provides online incident referral forms at montgomerycollege.edu/BIT.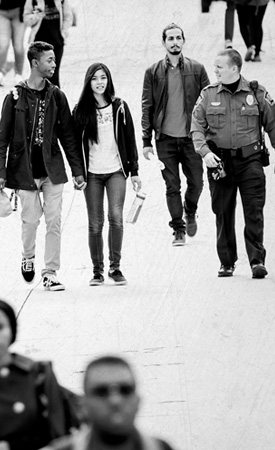 Bolesta echoes the importance of reporting suspicious behavior. "The National Counterterrorism Training Center recently conducted a study of 57 active assailant scenarios," he says. "In 80 percent of the cases, witnesses observed indicators. Of those 80 percent, half of those people did not report anything. I can't overstate the importance of, 'If you see something, say something.'™" He advises anyone to make an anonymous phone call to the Montgomery County Police Department at 301-279-8000 and, if necessary, the Maryland Coordination Analysis Center at 1-800-492-TIPS.
Rosano believes information sharing should be common practice among all county agencies. To that end, he convened a first-ever meeting of communications officers throughout the county last June. Officials from the College, Montgomery County Police, Montgomery County Government, Montgomery County Public Schools, and the Department of Homeland Security met to discuss best practices when emergency situations occur.
At the event, Rosano and Harrison discussed two incidents at the College, including the May 6 lockdown. "The College, the public schools, and the county are so interconnected," he says. "We all have to be on the same page and we have to communicate early and often."
Coordination, preparation, and vigilance are essential, but public safety at Montgomery College is a fluid situation. "I'm confident that with all these measures in place, Montgomery College's facilities are secure," Harrison says. "But we can't get complacent about scrutinizing and reevaluating situations that happen all over the world, particularly on college campuses."
—Jill Fitzgerald