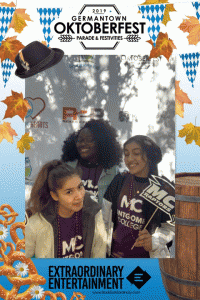 by Asma Faqeerzada, Alexis Kyei-Asare, Alexia Hernandez, and Aisha Khan
On October 5, Germantown came together to celebrate in a big way with its annual Oktoberfest Parade and Festivities. Southern Management Leaders Asma Faqeerzada, Alexis Kyei-Asare, Alexia Hernandez, and Aisha Khan all came out to support this great community event–learning more about their business community and community spirit all the while.
Asma, who shared that "It was amazing to see the Germantown community come together," also said that the event showed her new ways to advertise her future business, attract new customers, and make a connection. She shared this story: "I stopped by a real estate firm and their agent provided me with lots of important information about how to apply for a mortgage loan and what is some exception of eligibility. She made me fill out a form to get my contact information and asked me to make an appointment with them to talk further about the process of applying for a loan. This is a great way to attract  new clients."
Alexis, Alexia, and Aisha, all dressed in Montgomery College apparel, walked along the parade route, handing out goodie bags to children. Alexia shared, "It was very exciting to see so many members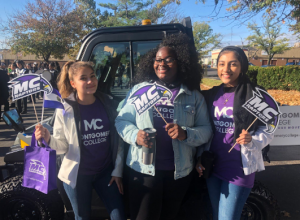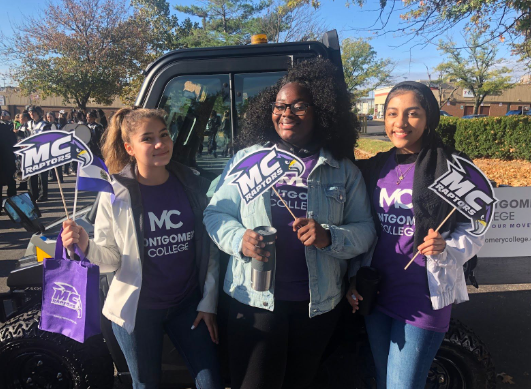 of the community come out and bring their families.    After the parade, I learned about many organizations in the community. We were given information on companies while winning prizes, so we had a blast! They had many festivities such as a photo booth so I had the opportunity to bond with other students in my cohort. . . .  I never knew that there was such a lively community in Germantown."
Aisha pointed out, "We walked the parade, handed out treat bags to kids, and got to connect with the community. We were able to socialize with small business owners, local nonprofits and government organizations. Being able to give back to our community, as small as the scale was, felt very rewarding. After walking the parade we strolled through all the different companies and organizations that were there. I learned a lot from seeing how brands and businesses market themselves at events like these. From giving out samples to having raffles, these brands were raising awareness of their companies and essentially getting more customers."
Alexis was focused on the community spirit, from holding her country's flag, "to represent the diversity at Montgomery College," to  "representing our amazing college," to "bonding with my fellow cohort members."  She noted, "I have lived around this area for quite a while but never attended the different community festivals and parades that were organized. Now that I know how great it is to be surrounded by a warm loving community while supporting businesses and organizations, I will continue to attend these festivals and parades. I learned that it is important to take part in and appreciate the fun activities that our county and town arrange for our community."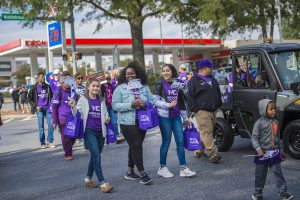 The festival, hosted by the Gaithersburg-Germantown Chamber of Commerce, began with a parade of over thirty-five units–including Montgomery College–that traveled down Century Boulevard ending at Aircraft Drive. A lot of participating local Germantown businesses had discounts and specials, so it was the day to eat, drink, and shop local.
#montgomerycollege #smlp #mc-germantown