Recruitment for the Academic Year 2022-2023 Will Open on March 1. Stay Tuned!
Could You Be a Southern Management Leader?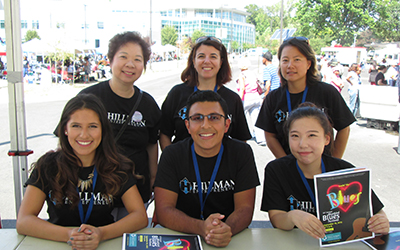 Southern Management Leadership Program students are determined, motivated, creative, and persistent and demonstrate the potential to become leaders and entrepreneurs in their fields and communities.
They also adhere to the program values that encourage ethics in every aspect of life and understand the importance of giving back to their communities through community service as well as support to the Southern Management Leadership Program and its future students.
They are also unique. They study a wide variety of subjects–including engineering, business, science, math, psychology, education, graphic design, and more. Some are traditional, college-aged students, while others have had years of life experience before joining the program. Some are raising families, while others are supporting parents who need them. Many are working part-time jobs and juggle many obligations, knowing that a college education will help them build a better future for themselves and their families. Does this sound like you? If so, keep reading about the requirements and the benefits for being in this rewarding program!
Financial Benefits
55% of all tuition and fees at Montgomery College and up to 50% at the University of Maryland.
Additional funds for books and required technology.
The opportunity to earn a one-time merit scholarship at Montgomery College.
Opportunities for paid internships and seed funds for business plans that have a positive impact on society
Academic and Professional Benefit
One-on-one advising and mentoring to support your academic and professional goals.
Entrepreneurial and leadership development through credit courses leading to a minor in Technology Entrepreneurship at the University of Maryland.
Opportunities to develop your professional network and pitch and launch your business.
Access to the Southern Management Leadership Program Centers at Montgomery College and University of Maryland — a professional and academic workspace.
Lifetime membership as a Southern Management Leadership Program entrepreneur with other aspiring and successful entrepreneurs.
Testimonials
"This Program has allowed me to actively pursue my interest in business. In addition to deepening my understanding of how to start and manage a venture, this program has provided a wonderful support network of faculty and students, whose drive and passion inspire me to work harder. Over these last two semesters, I have seen the impact of the Program through the growing information and support networks that I am building with teachers, mentors and friends in all areas of my life."
– Rachel Bittner, A.S., Mathematics, 2017
"This program is a blessing to me. The resources provided have greatly benefited me and I am truly thankful for the lessons I learned and the people I met through this program. These are lessons and relationships I will hold onto for a lifetime. I am so lucky to be a part of such an amazing program and I am looking forward to see what is in store for the next two years at UMD."
– Weiss Hamidi, A.A., Business, 2017
What are the Eligibility Requirements?
If you have an entrepreneurial mindset and an idea for a new product or business or a desire to make a difference in your community, we encourage you to join this unique program. In addition, intrapreneurs who show promise of becoming future leaders within existing organizations are also a strong fit for this program.
To be accepted into the Southern Management Leadership Program, you must:
Be on track to graduate with an associate's degree from Montgomery College and with a bachelor's degree from University of Maryland at College Park within 3 years of program entry.
Be pursuing your first bachelor's degree.
Be a U.S. Citizen, Permanent Resident, or a Dream Act student and a Maryland resident.
Have completed a minimum of 30 credits by Fall program entry, including one transferrable math course or be eligible to take a college-level math course in your first semester in the program.
Have a GPA of 2.5 or higher (this is a combined GPA, including all MC courses and courses transferred from other institutions). Some majors will require a higher GPA for acceptance to the University of Maryland-College Park.
Be in a program of study that transfers to University of Maryland-College Park (pre-law is not eligible).
Be available for a daytime Southern Management Leadership Program credit course each semester. All courses are held on Friday afternoons.
Be committed to additional programmatic and team-building activities outside of class.
Have completed the Free Application for Federal Student Aid (FAFSA).
Could You Be a Southern Management Leader?
Recruitment for the new cohort will begin on March 1.