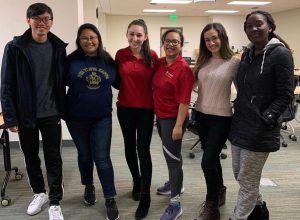 Insights by Shayna Berman
On Tuesday, November 19, I attended a Montgomery College (MC) to Universities at Shady Grove (USG) transfer workshop, held on the Montgomery College Rockville campus and led by student USG ambassadors, Linh and Zoey. Their presentation highlighted some great reasons that Montgomery College students should consider USG an option when they make their transfer plans. A few points to consider as you make your plans:
USG is a commuter school that offers more than 80 degree programs from nine different Maryland public universities.
Zoey shared that she loved going to MC because of its small class sizes and its community feel and that she loves USG because it has a similar feel to it. She said that USG is like "MC 2.0" – it has the same cozy atmosphere but also has
even more resources available for its students since it's a 4-year university.
Linh told us that she is happy that she is able to have personal relationships with all of her professors, and she believes that this is largely due to the small class sizes.
Lastly, Linh and Zoey shared that they both take classes at UMD College Park once or twice a week, and there is a free shuttle that takes students back and forth from USG to UMD!
I really enjoyed attending this workshop. My favorite part was hearing their personal experiences and stories – I think that this kind of information is extremely valuable. I am glad that I will be more informed as I transfer next year!
For more information about USG and its programs, visit the USG Website.
#montgomerycollege