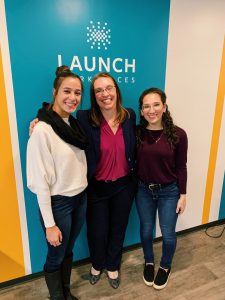 Talita de Oliveira and Olivia Salah learned all about how small business owners can use social media to advertise and market their businesses at a special workshop hosted by Launch Workplaces — a shared workplace facility in Gaithersburg, Maryland. The workshop, held on October 30, 2019, was led by Karen Grill, the founder of Second Act Moms and a successful social media manager and entrepreneur, who specializes in business and productivity.
Grill shared pointers on how to become more tech savvy with social media, explaining how to design a business profile that will look professional and enticing. Talita reported that Grill stressed that social media allows one to connect with their target audience with ease and is cost-effective (62% less than regular advertising). Using social media the correct way gives a business "raving fans," increases awareness and engagement, increases one's network, provides sharable content, testimonials–and can generate three times the lead that one gets from normal advertising.
Olivia and Talita shared the following tips they gleaned from the workshop:
Use a template from a website to make sure profile pictures and cover photos on social media platforms are in the right format.
Know who your target audience is so that the platforms chosen are suitable for those specific clients.
Consider the platforms that competitors in your industry are using.
To secure a business name on all platforms, use a website like namecheckr.com that guarantees the name is consistent and not taken by another company.
Proper set up allows business owners to satisfy algorithms and position their brands.
Grill also discussed appropriate cover photos to use, different graphic design programs, reliable image sources, and what kind of varying content businesses should focus on posting."
For Talita, a major takeaway was that after becoming active on social media, business owners should measure their results by checking insights, looking at followers, and engaging with clientele regularly. She stressed, "I strongly believe that this community engagement was my ultimate favorite and the most helpful, since it taught me a lot about marketing strategies through the use of a mobile device. I can see myself going into the marketing field, therefore, knowing how to implement social media into my future venture is extremely important."
Olivia concluded, "with advancements in technology in today's society, it is important as future business owners to keep up with these changes. We need to adapt to using social media and use it as an advantage. It was helpful to learn from Karen Grill the many ways social media can help promote a business. I am intrigued and will practice these new learned tips in the future. As of right now, I can use these tips to modify my linkedin profile to be as professional and welcoming as possible."
#montgomerycollege
#launchworkplaces
#secondactmoms