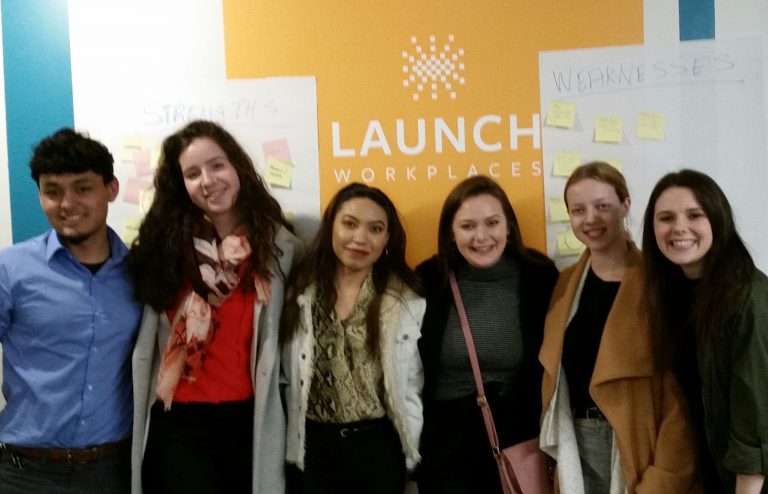 On March 1, the Hillman students held class in a unique local co-working space in Gaithersburg, MD, called Launch Workplaces. This opportunity to tour the variety of working environments available to members of Launch as well as the chance to meet and ask questions of some of the entrepreneurs as well as managers of the space was eye opening as a potential pathway towards launching the ventures the students are now planning.
After a tour and hearing from members of the co-working space, the Hillman students went to work, actually using what they had learned to collaboratively develop a SWOT (strengths-weaknesses-opportunity-threats) analysis of this business model and of Launch specifically. They noted the opportunities such a space provides to very small companies looking to partner with other small companies, the flexibility offered by spaces like Launch Workplaces, the flexibility businesses need when they start to grow to move up to larger spaces, and the financial savings over traditional office space arrangements. They also explored elements of the political, economic, social, technological, environmental, and legal aspects (a PESTEL analysis) that impact businesses like Launch–recognizing what they already knew and what they would need to know before considering a business like Launch or a decision to work in a co-working space. This exercise, carried out in the actual space of this thriving workspace, will next be applied to business ventures under development by teams of Hillman students to be presented at the end of the semester.

Students had a great time learning about co-working and about the complex factors that go into determining and planning for a business to be successful. It was an additional treat as well to be greeted by a Hillman graduate who started at Launch as an intern and now works full time for a member company as their marketer! Nothing beats real life to teach and inspire us to go forward with our dreams. Thank you to the team and members at Launch Workplaces for inviting and hosting us in your great space–right down the street!