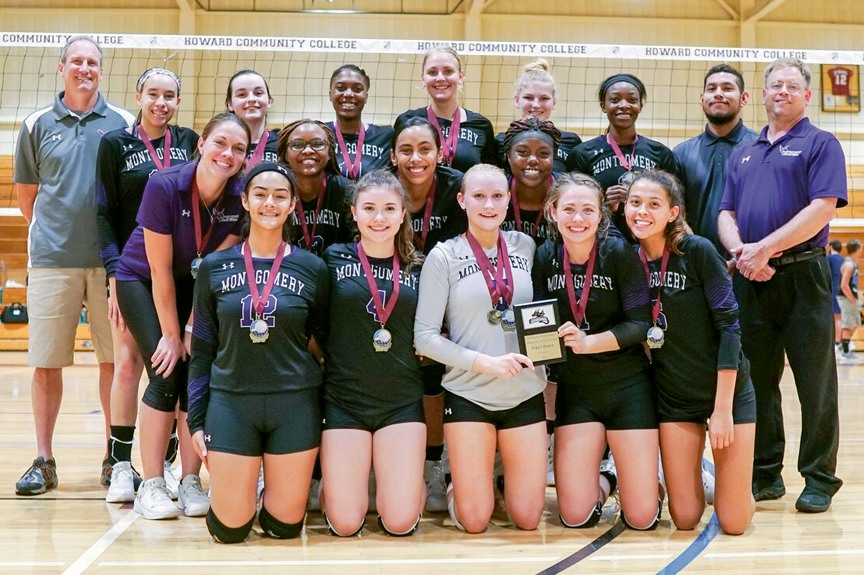 Montgomery College's women's volleyball team capped an undefeated season with a first-ever MD JUCO Division II title. The Raptors finished 26-0, dropping only three sets all season. The latest NJCAA poll ranks the Raptors #19 in the nation. They are the only unbeaten team in the Top 20.
Tori Kenno '12, now in her third year as coach, played volleyball at MC before transferring to the University of Maryland. She was not satisfied with her team's performance last year. In 2017, MC started strong but faded midseason. They lost, in straight sets, in the first round of the Division III Regional Tournament. Kenno vowed not to let it happen again, hitting the recruiting trail in the offseason. Kenno focuses on acquiring key competitors from successful local high school programs.
The star-studded recruiting class features Anna Chepurnova, outside hitter from Northwest High School in Germantown. Russian-born Chepurnova, one of the top junior college freshmen in Division II, ranks fourth in the nation in hitting percentage and has more than 300 kills on the season.
"I knew Anna when she played in high school. She won a state championship," Kenno says. "Isabel [Nelligan, outside hitter] played at Damascus, another volleyball powerhouse. Key [Keyshiana Fennicks] played at a Division II college in Ohio her freshman year and Talya [Huss, freshman setter] won a state championship at Northwest. I think having young players from winning programs creates the expectation of winning here at Montgomery College."
MC was the top seed in the Region XX tournament at the College of Southern Maryland, November 2-4. Although they made the tournament final, they fell to Northern Virginia Community College three sets to one.
Photos courtesy Montgomery College Athletics Department