Sarah Dwyer left a corporate career to build a business that makes her smile. It makes her customers—and her team—smile, too.
For Sarah Dwyer '06 life isn't like a box of chocolates. It's thousands of boxes of chocolates a year, each morsel made by hand following her recipes, her dream, and a commitment to giving her employees a chance they might not otherwise find.
Her life as a chocolatier was a sweet surprise she did not expect when she walked away from a corporate career. Now, when she slips into the kitchen, work brings a smile to her face, too. Employees crank up rock music on the radio as they mix the chocolate in the machine they have nicknamed Simone and pour the mixture into molds.
Dwyer is a hands-on business owner. In addition to her executive duties, she still spends most days working alongside staff. Here she is making specialty and custom chocolates by hand in the Gaithersburg, Maryland, production facility. Dwyer says she loves being in the kitchen, but even better is watching her customers' faces light up as they put one of her treats in their mouths and break through the brittle shell into the smooth interior.
"That's the real joy," she says. "That ability to make somebody happy with something you make. I made it with my hands. I thought about it with my brain. I know it sounds sappy, but I made it with love."
Dwyer, 46, is the owner of Chouquette (pronounced shoo-KET), a gourmet chocolate company that sells to stores throughout the Washington, DC, region and beyond, and creates custom designed chocolates for corporate gifts, school shows, events, and weddings. Filling her shelves are two-bite treats with scalloped edges decorated with designs printed in cocoa butter, from cherry blossoms to college mascots to logos for PBS and NPR.
The Silver Spring resident is proud of her chocolates, but she is also proud of her team that makes them. Most of her employees cope with mental health issues that can make landing a job difficult. But the specific—even repetitive—tasks that come with working in a kitchen, from piping caramel to arranging boxes, can be fun, they say. On a night in March, all but three of the workers hovering over the chocolates came from Cornerstone Montgomery, a nonprofit working with people with mental health disorders, or Sunflower Bakery, which teaches culinary skills to young people with learning differences. About half this group, including Dwyer—are also Montgomery College alums.
Neva Adashek, 21, of Olney, came to Chouquette last August through a job placement program at Cornerstone. "It's been great," she says. "Everybody here is so patient and understanding. They let you ask questions, and they understand when you mess up."
Dwyer says she didn't set out to work with people with mental health challenges, but she has come to respect the skills they bring to the kitchen and the fun atmosphere she finds when she walks in the door. "I love being here," she says. "I can be in a bad mood and once I get here, it goes away. I never felt like that with any other job. We laugh. We all look forward to coming here."
It is not the life Dwyer imagined when she was a student at Montgomery College more than 20 years ago (but she says those accounting classes still come in handy). She was a part-time student then, studying while working in a corporate banking career.
It seemed like a natural fit. Her sister worked at NASDAQ. Her brother worked in mergers and acquisitions. But the job was not working out. Sure, it paid well. But she hated her boss, and, she says, the feeling was mutual. When she thought about devoting her career to it, she realized it could mean decades of agony.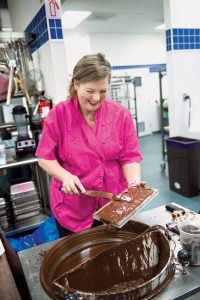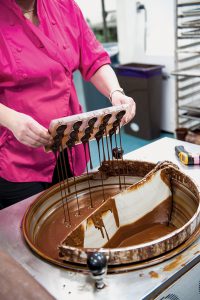 So she quit. It was time for that gap year she never took.
"I decided I was going to take what I thought was a year off," Dwyer says. "I wanted to go to Paris."
In 2009, she set off for the City of Light, determined to learn pastry at the famed Le Cordon Bleu Pastry School—the school where Julia Child learned the art of French cuisine. It would just be a year, she thought. Then she would come back, get an office job, settle down.
"I loved every minute of it," she says of her time in pastry school. She learned to make croissants and chouquettes—the tiny eclairs whose name she took for her company. She also learned to make chocolate, and European-style dark caramel with a nutty flavor that comes from long, slow cooking.
"Pastry and chocolate and caramel come from such basic ingredients, but when you put them together, it's magical," she says.
She decided to bring that magic to her own life. When she returned home, still trying to figure out her next career move, she often stayed up late making chocolates for friends, she says. Then she realized, maybe the traditional career path was not for her. She had loved chocolate since she was a kid, smushing her fingers into boxes of chocolates to find the flavors she liked. Other people, it turned out, loved her chocolate, too. Maybe, she thought, that should be her future.
"I think it was really what I was meant to do," she says. "All of a sudden, I found it out. I followed my passion. I don't think everyone gets to figure that out."
In 2010, she started Chouquette, making the flavored chocolates herself by hand, selling them at farmers' markets and trying to convince stores to put them on their shelves.
She became a staple at the Bethesda Farm Women's Market, and it was there that a job coach from Cornerstone showed up at her stand with a question: Would she consider hiring people with mental health issues? Dwyer was open to the idea. "I didn't realize then that it would be such a big part of what I do," she says.
Since then, she's become an important resource for people with mental health issues in search of culinary jobs.
"Sarah's been nothing but great," says Brittany Belscher, a program supervisor at Cornerstone Montgomery. "She has even adapted her business to help the employees," Belscher says, including creating step-by-step guides to walk them through how to tackle certain tasks.
"She's a really good, supportive employer. It's rare to find that," says Alex Dudley, vocational program manager at Cornerstone. "It's important to find a good job match. A lot of times that means an employer who is understanding and encouraging of everybody and meeting them where they are at."
Dwyer praises her employees' work. Watching as one worker removes chocolates without a trace of scratches, Dwyer says, "She wants them to be perfect." Those pieces go into a box for new customers to sample.
Standing over a table lined with chocolates, Jonathan Turcios, 21, of Gaithersburg, pipes peanut butter into them.
"Out of all the jobs I was considering going to, this was the one I really wanted to join," says Turcios, who came from Sunflower Bakery. "I was definitely interested in how chocolate worked and how the process of making it goes."
What started as a one-woman operation selling at farmers' markets has become a business turning out chocolate that sells at 150 stores, including the White House Historical Association and Dawson's Market. Her shelves are stacked with edible logos ready to go for places like the University of Maryland, Georgetown University, and of course, her alma mater, Montgomery College.
The kitchen crew has enough experience that they can run it without her if she needs to attend an event or tasting, but she loves to be there making her small batch caramel, testing out new recipes, and sharing the sweet smells.
"Being able to do what I do is amazing," Dwyer says. "Not too many people get to do what they love and do good. I love these people. They make my business good."
—David Frey
Photography by Pete Vidal