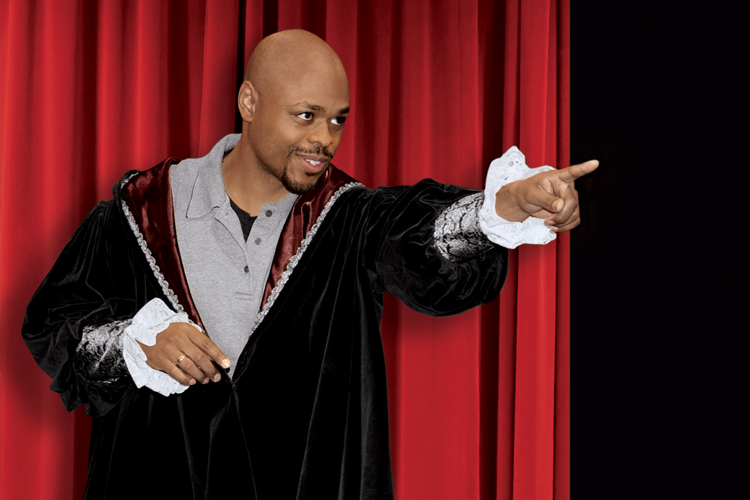 "I believe in the fierce urgency of now," says Theatre Professor KenYatta Rogers. The transaction between me and the person that is in front of me on stage or in the classroom is the most important thing at that time."
Rogers, who calls his work with students "more of a mission than a job," was named Maryland Professor of the Year by the Carnegie Foundation for the Advancement of Teaching and the Council for the Advancement and Support of Education (CASE) [2015]. And his students applaud the recognition. Performance major Abhishek Shrestha '15 cites Rogers' focus on individual students; Shaquille Stewart '15 calls out his ability to nurture creativity: "He has helped me not only as a theatre student but as a human being," says Stewart.
Rogers has taught fundamentals of acting, voice and diction, and movement for the performer classes at MC since 2000. But teaching is just one of his distinguishing characteristics. He is also an award-winning actor (he has garnered three Helen Hayes Award nominations for his stage performances) with more than 50 film, television, radio, and voiceover credits, including the National Endowment for the Arts' The Big Read series and PBS' Standard Deviants. Often, he acts on Washington-area stages at night and comes in to teach the next morning. He also advises the Black Box Players, a student theater group on the Rockville Campus, and mentors more than 30 students each year. He has served as a director and coach for more than 15 productions for the College.
Rogers co-produces WILLPOWER!, an annual Shake-speare festival founded in 2003 and attended by more than 10,000 people. He also co-produces MCSLAM!, an annual poetry festival featuring student work. Looking ahead, Rogers says the department will be departing from Shakespearean WILLPOWER! to a broader global perspective. In April, the WILLPOWER! week of master classes, performances, lectures, and workshops featured both Shakespeare and Commedia dell'Arte—an art form of the Italian Renaissance that features broad physical comedy and fun, irreverent, brassy characters, recognizable in today's sitcoms and rom-coms.
"Exciting things are coming up next season," says Rogers. "We will be taking on world issues and examining them through the lens of theatre." In addition to next season's lineup of Godspell, Marisol, In the Heights, and Conference of the Birds, the department will offer a learning community course with the Music Department. The pairing will coordinate the global themes so each class reinforces the other and enhances learning. Rogers is also working with a student to create a promotional video for the learning community, as well as archival products of performances as reference material for other theatre and educational groups.
This is the eighth time in eleven years—and the sixth consecutive year—that a Montgomery College professor has been named Maryland Professor of the Year. Previous winners are Dr. Mary Furgol (history); Professor Joan Naake (English); Susan Bontems (chemistry); Dr. Deborah Stearns (psychology); Professor Dawn Avery (music); Professor John Hamman (math) and Dr. Greg Wahl (English).