[rev_slider Stone]
Inside Studio #227 at the Torpedo Factory Art Center in Alexandria, Jennifer Brewer Stone '01 experiments with color, form, and mixed media under fish-bowl conditions. For her new Textural Series, she thins brightly colored oil paint with linseed oil, testing consistency, and then blends it with molding paste. Using a palette knife, she spreads the mixture onto a Masonite board, forming peaks and swirls as she goes. The foundational layer will take two weeks to dry, at which point Stone will paint details on the hardened summits and crests. For a recent commissioned piece, she painted delicate sea plants atop a gradient of Dioxazine Purple, Phthalo Turquoise, and Cobalt Blue. She uses a Robert Simmons Sn51 liner brush so fine it comprises just a few fibers. The scene took nearly 50 hours to complete.
Stone, a full-time artist and former graphic designer, was juried in to the art center in 2012. In exchange for the studio and gallery space, she must work there at least 28 hours a week. She was nervous at first about having onlookers during the creative process, but three years in, the live audience has proven to be an asset. People ask questions, provide feedback, and occasionally buy a piece of her art.
"People are either scared to step into the studio," she says, "or they walk right up to the piece. The interaction helps me know what people respond to, and how to price it."
Children are her favorite art critics: "They like to talk about what they see, and they are refreshingly honest."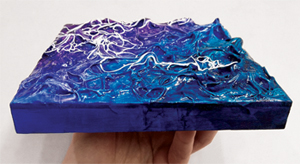 Young and young-at-heart seem drawn to her tropical, hyper-realistic Dance of Life Series. The brilliant colors and unusual plants and creatures radiate Stone's joie de vivre. In works titled, Jelly Undulations, Seadragon's Surprise, and Spring Serenade, winged creatures float along a Cobalt backdrop that could be sky or water. She gravitates to dramatic forms in nature—orchid petals, coleus leaves, and butterfly wings.
"I like to paint reef fish—especially creatures like batwing slugs, seadragons, and nudibranchs—because they look so fantastic, so otherworldly."
Working in public view brings interruptions, but Stone is mindful that the narrative of each piece translates into positive customer relations and art appreciation in general.
"Most of my sales are from people who have already made personal connections to me or the work, either at the Torpedo Factory or at shows."
Stone has participated in more than 45 shows since she began painting full time five years ago. Her artwork has been featured in èlan magazine and in The Washington Post. She had a solo show at the Art League Gallery of Old Town Alexandria in July 2013, and has been accepted into national and international juried shows for the Dance of Life Series. Collectors across the United States and in Europe have purchased her work.
Stone is usually in her Torpedo Factory studio Wednesday through Friday, and on Sundays, from 11 a.m. through 6 p.m.