"The work that we are doing now is a continuation of what was started—to ensure the future of a thriving Montgomery County in which our students are prepared to contribute to and benefit from the prosperity that is a hallmark of the region."
–Margaret Latimer, vice president and provost, Germantown Campus
The Germantown Campus, now 40 years old, no longer seems as far out in the country as it did in 1978 when it first opened. Built on a parcel of farmland between I-270 and Route 355, the College's youngest and northernmost campus opened with two buildings, 24 employees, and 1,200 students. Today, it serves nearly 7,000 students per semester in eight buildings; through its Pinkney Innovation Complex for Science and Technology at Montgomery College (PIC MC) integrated technology complex development project, it is also striving to be an economic development leader.
"Students are changing. Funding streams are changing. Student streams are changing," says Margaret Latimer, provost and vice president of the campus. "Our understanding of learning is changing. The boundaries in education are changing."
Latimer refers to the natural progression from high schools offering AP and IB programs, to the latest blurring of boundaries between high school and college: dual enrollment, and middle and early college programs. In fall 2019 Germantown will host the Early College programs in computer science and cybersecurity. Adult learners, too, find their way to the campus for career-changing programs, especially in bioscience and cybersecurity.
The newest buildings on campus—the Bioscience Education Center and the Holy Cross Germantown Hospital—offer resources to meet the demand for a high-quality workforce. The hospital is an anchor tenant in PIC MC, which was recently designated a Regional Institution Strategic Enterprise (RISE) zone by the Maryland Department of Commerce. The designation provides financial incentives—property and real estate tax credits—for businesses that choose to locate on the campus.
PIC MC/Germantown Campus was also named an Opportunity Zone, a national program administered by the US Treasury that encourages redevelopment of communities via federal tax incentives for investment. The initiative encourages job creation and revitalization by providing new opportunities for business, housing, and retail growth.
In addition to leading the charge for business development, College leadership focusing on change at the campus makes sense for its primary users: students and faculty. The Student Affairs and Science Building is currently under renovation with an anticipated opening date of 2019. The south side is being renovated, and a third floor has been added to better serve student affairs and science programs: astronomy, engineering, geology, landscape technology, physics, and physical science.
Here's to the next 40!
—Diane Bosser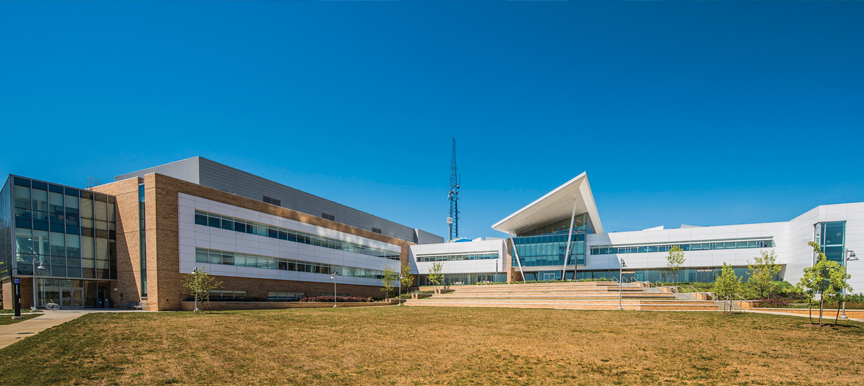 Illustration by Ellen Byrne '83
Photos by Pete Vidal
---
Breaking Ground at Germantown
I was a very excited five-year-old. I loved the outdoors and I knew my dad was taking me with him on another adventure. We drove "forever" from our home in Silver Spring. I knew that once we got there, I could run around in the wilderness. Yes, the wilderness—the beginning of the Germantown Campus.
Having worked at Montgomery College from its early years as a professor up to administrative vice president, my father, Irvin Schick, Bliss '47, helped plan the campus.
My dad referred to this new place as "G-3," an acknowledgment that this was the College's third campus. I have fond memories of our trips to survey the land, to watch the construction, and to marvel at the curious monstrosity, the WSSC water tower. At five, I had no idea the land was about to have a beautiful new purpose—where education can be accessed affordably, and students are empowered to change their lives.
At the groundbreaking ceremony in 1976, each of the groundbreakers, including my father, got a shovel and dug into the wilderness soil, symbolizing the start to a place where educational dreams would come true for even more students in Montgomery County.
My dad kept that shovel. When I was much older, I remember picking up the shovel to use in our yard. My dad called out to me, "You know that's a very special shovel!" My father spoke with pride, remembering the early beginnings of G-3.
His shovel is back in the wilderness, at the 40th anniversary of the Germantown Campus.
—Dr. Carolyn P. Schick
Dr. Carolyn P. Schick developed and now directs the College's STEM Learning Assistant Program. This article is drawn from her opening remarks at the Germantown Campus's anniversary ceremony in October.
Her father, Irvin Schick, studied at the Bliss Electrical School, which became MC's first campus in 1950. He returned to teach electrical engineering the same year, then served in successive positions until his retirement in 1978. In 2002, he received the Milton F. Clogg Outstanding Alumni Achievement Award. Mr. Schick died in 2009.
Visit the STEM Learning Assistant Program webpage for more information about the program.
---
Germantown Campus: Fact of Fiction?*
Campus opened with 4 full-time faculty and 11 part-time faculty.
Employees contributed more than $30,000 to help complete the High Technology and Science Center.
Chautauqua living history events were hosted in conjunction with Maryland Humanities on campus starting in 1999.
The Spectrum Lecture Series, a science-oriented lecture series aimed at nonscientific audiences, was first organized by Dr. Robert Coley in 1980.
Germantown Campus hosted Jeopardy! Game Show tryouts.
The campus's first graduation ceremonies took place in the cafeteria, then later moved to the sidewalk between buildings.
Germantown Campus celebrated its 30th anniversary with the grand opening of the Goldenrod Building, now the Paul Peck Academic and Innovation Building.
Dr. Harry Harden Jr. established the Black and African-American Student Academic Awards Program in 1989 (now part of the Harry Harden Jr. Academic Awards).
The "earthoid" design of the water tower won "Steel Tank of the Year" in 1980 from the Steel Plate Fabricators Association. Owned and maintained by the Washington Suburban Sanitary Commission, the water tower holds two-million gallons of water.
A star was purchased and named for Germantown Campus: Gryphon Omega (star coordinates: Lacerta RA 22h 11m 21.00s D 48° 28' 0.00") was registered with the International Star Registry on October 10, 1996, as part of the College's 50th anniversary celebration.
Long-time employee Cindy Ray was especially connected to Germantown Campus; the campus was built on property that was her family farm growing up.
The forensic processing of O.J. Simpson's infamous gloves took place in the Goldenrod Building—before it was owned by the College.
The College did a land swap with Montgomery County Public Schools, trading the corner parcel it once owned at Middlebrook Road and MD-355, for an interior parcel.
Frank Islam Athenaeum Symposia Speakers Series, first organized by Professor Joan Naake, began in fall 2011.
Germantown is the only community college campus in the nation with a hospital (Holy Cross Germantown Hospital).
A helicopter used by the Holy Cross Germantown Hospital to transport patients lands on the grass at the MD 118/Observation Drive entrance.
Germantown's baseball team had its first win over Rockville Campus rivals in 1985. The team won the NJCAA District D Championship and NJCAA Region XX Championship in 1996, 2001, 2002, 2004, 2006, 2007, 2008, 2009, 2010, 2012, 2013, 2015, and 2016; they were national champion runners-up in 2004 and 2009. Over the years, the team has earned eight Rawlings Gold Glove awards and two Marrucci Hitter awards, and has produced more than 40 All Americans. Coach Dan Rascher has more than 400 wins under his belt. When the water tower on campus (the globe) needed to be repainted, two options were considered: replica of the original or a baseball design.
Illustrations by Ellen Byrne '83
*All items are factual.