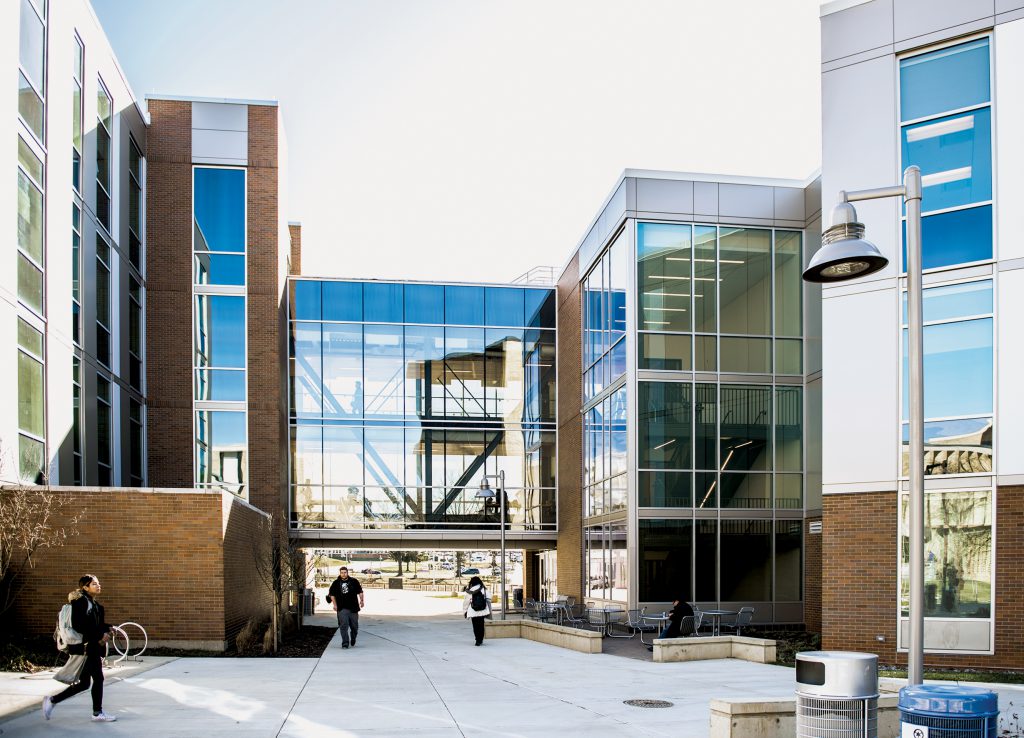 Rockville Campus celebrated the opening of its newly renovated Science Center West building early in February. Soaring windows and spacious and adaptable instructional rooms enhance teaching and learning in popular science, technology, engineering, and mathematics (STEM) programs.
The $29 million project, which included adding a third floor, completes a 12-year plan to upgrade science and math facilities considered critical for student success and for workforce preparedness. The building adjoins the Rockville Science Center, a 140,000-square-foot new construction opened in 2011, via glass bridge/walkways and hallways. Inside and out, the structures complement each other in design—balance, scale, color—and in energy features.
"This building is a dream come true. This complex represents the very best of Montgomery County, Montgomery College, and the future." —Kimberly Kelley, Rockville vice president and provost
Meeting Demands for STEM Education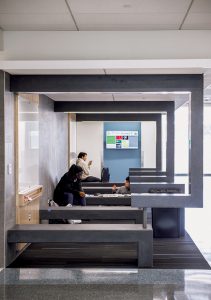 When Science West was built in 1965, it served 7,000–8,000 students. Today, Rockville's student population averages 16,000 and the campus is now surrounded by federal agencies, a vibrant health care sector, and burgeoning technology and life science industries. The College has the largest engineering program of any community college in the United States, with more than 1,100 students enrolled in the engineering transfer program. And overall science, engineering, and mathematics enrollment is up 57 percent since 2000.
The new science complex added 25 new math and general use classrooms, laboratories, a math emporium, open study area, lecture hall, and an administrative suite. Classrooms and labs, generally larger and more versatile than before, promote collaborative learning.
Diverse work styles are now accommodated in spaces like the first-floor STEM Learning Center, a large open room with work spaces for students who work on laptops, iPads, and cell phones, and glass-enclosed study rooms for small groups and study carrels around the perimeter.
"The right space can have a positive effect on students' attitudes. The sense of community here promotes collaboration."—Virginia Miller, chemistry professor
"F

rom the Macklin Tower basement for 30 years to this!" says Carol Burbage, director of the Judy E. Ackerman STEM Learning Center.
Officials and College administrators—including Montgomery County Executive Ike Leggett and County Council President Roger Berliner—participated in the ribbon-cutting ceremony on February 16. Building tours closed the event.
To see more photos of Science Center West and other MC people, places, and events, visit flickr.com/photos/montgomerycollege/albums.
---
Building Features
68,261 square feet
Construction budget: $23 million
Façade is made up of brick, metal panels, polished porcelain tile and glass.
Interior corridors are terrazzo.
Classrooms and computer labs are furnished with either projectors or Bright Link Smart Boards. Flooring is Marmoleum*.
95% of furniture is provided by Maryland Correctional Enterprises. This arrangement allows prisoners to receive training in CADD design and furniture fabrication on real projects.
Three small bio-retention facilities (water gardens) on the exterior site capture rain water.
*Marmoleum is a floor tile made from recycled and renewable resources.
Architect: Stantec
Construction: Grunley Mascaro Construction LLC
Project Management: Peter J. Hanley, senior project manager, Montgomery College Central Facilities Department