Fox News's "New Yorkers Working with Doctors Without Borders" featured Michelle Mays, MA, RN, BSN, and Montgomery Scholar '02.
---
Hechinger Report article, "Placement rates, other data colleges provide consumers are often alternative facts," (March 22, 2017) included comments from Kevin Long, director of policy and planning, on collecting student data.
---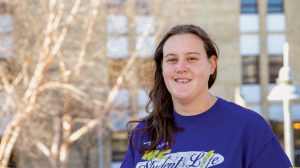 WTOP featured student Constance Roberts as an outstanding member of the community. Roberts, a social work major, volunteered more than 900 hours to various nonprofit organizations during the last year-and-a-half. She also works part time at the College as a service-learning assistant.
Photography by Lisa Claps Usher