Shrouded by November's predawn darkness, Manjula Dissanayake '03 gets into the Uber car that will take him to Dulles International Airport. Chara, his wife, and Ayaan, his six-month-old son, are still asleep. The journey to Sri Lanka—approximately 10,000 miles across the Atlantic, over Europe through Dubai, and on to South Asia—is arduous, but the athletic, personable Dissanayake, who works 60 to 70 hours a week from a home office in Rockville, sees the travel time as a rare chance to unplug.
"The long flight home is one of my favorites," he says. "It's one of the rarest times you actually get to spend without Internet or phone. And I use this time to do a lot of thinking and reflecting."
Dissanayake, 35, is founder and CEO of the Educate Lanka Foundation, Inc. (ELF), a nonprofit social enterprise that gives economically disadvantaged youth in Sri Lanka access to quality education, mentoring, and employment opportunities. Sri Lanka is 10.5 hours ahead of Rockville time, so he normally works odd hours via Skype and email. Because virtual communications can not replace a handshake, he travels there two or three times a year.
Since 2007, the ELF has provided education funding for more than 1,000 students in Sri Lanka. Support from donors (mostly Sri Lankans living abroad who send payments of $10 to $25 monthly) totals $500,000 in micro-scholarships. To date, 450 ELF scholars have graduated university and found gainful employment, feats that would have been unimaginable without financial angels.
"While Sri Lanka is blessed with a universal education system on paper, poverty has become the number-one factor preventing students from completing their post-secondary and higher education. Nearly 300,000 students currently belong to families living on less than $1.50 per day, and every year, an estimated 140,000 students complete their education without job-related skills," says Dissanayake.
Disenchanted with his country's decades-long ethnic conflict and destined for a bleak future, he came to Maryland at 19. He enrolled at Montgomery College and worked 50 hours a week at two jobs to support himself. It was during his second year at MC, as a Macklin Scholar, that Dissanayake honed his business acumen while learning project management, leadership skills, and the personal rewards of helping the less fortunate.
As part of the MBI SIFE team (Students In Free Enterprise, now called Enactus), Dissanayake and his peers accompanied mentor Brian Cunningham to Washington, where they spent Saturdays helping promote entrepreneurship among DC residents.
He continued to volunteer after transferring to the University of Maryland's Robert H. Smith School of Business in 2003. He cofounded a SIFE team there, which won first place in the annual competition for outreach and entrepreneurship projects. They built a crowdsourcing website and fundraised for Sri Lankans after the devastating December 2004 tsunami. The team raised $20,000 in six months.
"Two things I learned from raising money for tsunami victims," he says, "were the posi-tive difference we could make back home from here, and how many Sri Lankans living abroad are willing and able to give back."
Several members of that SIFE team became founding members of the Educate Lanka Foundation: Rasan Amintha (MC alumnus '04), Hasika Pamunuwa (UMD, '05 who developed the web platform single-handedly), and a few other young professionals from the Sri Lankan community in the greater Washington area. Dissanayake worked full time in banking while keeping Educate Lanka running on the side, but eventually—after a life-threatening car accident while in Sri Lanka—gave up his dream of personal wealth to run the organization full time.
"After the accident, my purpose and perception of life changed," he says. "I realized I didn't belong in finance. What was most important to me was family, friends, and people I've helped—not what I accumulated, but what I would leave behind."
When he returned home, he quit his job and enrolled in a master's program for international development and social entrepreneurship. During his two years of graduate school at the Fletcher School at Tufts University, he tested Educate Lanka Foundation's model through a series of business plan competitions in Boston, including at Tufts, Harvard, and MIT. It also became his graduate thesis.
He incorporated the social enterprise and assembled an impressive board of advisers that includes the former Sri Lankan Ambassador to the United States, a director of Harvard School of Education, the former chief counsel at World Bank, a commissioner for the US national committee in UNESCO, and experts in education and developmental entrepreneurship.
"It's not an effort of a few individuals," he says. "Thousands have backed and contributed to this, and every one of them is a part of the journey."
Today, the Educate Lanka staff in Sri Lanka comprises seven full-time employees, including Country Director Dhanusha Amarasinghe, who oversees operations across all nine provinces, a network of 25 volunteer liaison officers, and a number of corporate partnerships. Headquartered in Kandy, in central Sri Lanka, ELF staff have taken over duties Dissanayake previously did himself, including traveling around the country and meeting with every student (about 300 at that time) during scholarship distributions and new student screenings.
"Dhanu has been my pillar of strength in Sri Lanka, and Rohan Vimalachandran, my right-hand guy in London, has made a huge contribution to our (and my personal) success in recent years."
Having staff in Sri Lanka allows Dissanayake to focus on business development, strategy, and recruiting. In November, he logged 54 meetings in 14 days—many with corporate executives and government officials who are receptive to the ELF mission and want to collaborate for their common purpose. He returned stateside with MOUs (memos of understanding) with several multinational firms—including Deutsche Bank, MasterCard, and Rotary Club. He also carried a 50-page outline for national educational reforms, handed to him by the Sri Lankan Secretary of Education.
Days after his return, he delivered closing remarks to attendees at the World Bank's Youth Summit 2016 in DC. His audience was thousands of young adults from more than 100 countries, gathered, some in person and some virtually, for "Rethinking Education for the New Millennium." Old enough to advise, but young enough to be their peer, Dissanayake spoke about his experiences structuring a nonprofit, outlined ELF's goals and strategies, and advised the students to follow their passion in social entrepreneurship:
"Our generation is expected to tackle some of the world's most pressing issues. It's unacceptable that we live in a world where 60 million children do not have access to education. More than 100 million youth do not have basic literacy skills. If we do not commit to address these critical issues today, we would have failed as a generation. This is our responsibility."
At a meeting for international diaspora organizations, Dissanayake learned how some organizations are using the Internet to provide work for Syrian refugees. He realized a similar strategy could work for the Sri Lankan community: ELF scholars in Sri Lanka could teach Sinhalese or Tamil languages online to Sri Lankans living abroad. The students would benefit from the income source and exposure, and the overseas community would strengthen ties to a distant cultural homeland.
Dissanayake's long-term plans—other than spending more time with Chara and Ayaan—include guiding the social enterprise toward becoming sustainable so the work will continue even when the current team of managers is no longer there. He also wishes to see the ELF model replicated in other parts of the world, and to be able to positively influence the current education systems in Sri Lanka.
"We hope that what we started in Sri Lanka will reach many other countries and empower thousands of high-potential future leaders from destitute backgrounds to achieve their dream education. We want them to be equipped with the knowledge, skills, and values needed in the 21st century, so that they possess the tools needed to lift themselves, their families, and societies from the cycle of poverty."
—Diane Bosser
Photos courtesy of Manjula Dissanayake
---
Award-winning CEO/Founder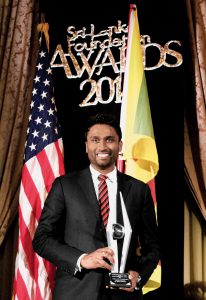 Manjula Dissanayake, Macklin Scholar '03, earned a bachelor of science (cum laude) in finance from University of Maryland's Robert H. Smith School of Business and a master's in international development and social entrepreneurship from the Fletcher School at Tufts University. He has received numerous awards for his leadership and vision, including Under 33 Global Foreign Policy Leaders and Top 15 Social Innovators in the United States by American Express and Ashoka. He was also nominated for the Inspire Leadership Award (an award previously won by Richard Branson and Melinda Gates).