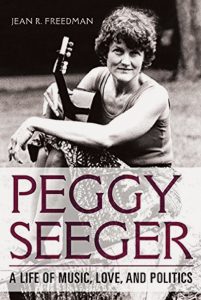 Professor Jean Freedman recently published the first full-length biography of music legend Peggy Seeger, entitled Peggy Seeger: A Life of Music, Love, and Politics. The book covers Seeger's career in music as well as her lifelong advocacy for environmental and feminist causes. Professor Freedman earned a PhD in folklore from Indiana University and is author of Whistling in the Dark: Memory and Culture in Wartime London.
---
Three members of the MC community—Dr. Uchechukwu O. Abanulo, Dr. Judy E. Ackerman, and Dr. Barbara G. Hoberman—were honored for their work to create outstanding STEM programs. The March event, held at the Rockville Campus's Science Center, also served as a naming ceremony for the Judy E. Ackerman Math/Science Center in the former vice president and provost's honor.
---
Montgomery College Raptors women's soccer team coach, Phil Nana, was selected the 2016 MDJUCO Coach of the Year. In just his second year as head coach, Nana lead the MC women's soccer team to a 17–3–1 season (8–0 in conference play) with over half of their conference games on the road. Check out highlights of the MC women's soccer team on YouTube at youtube.com/ TheRaptorsMC and follow the team on Instagram @MCWomensSoccer.
Photo courtesy of Department of Athletics