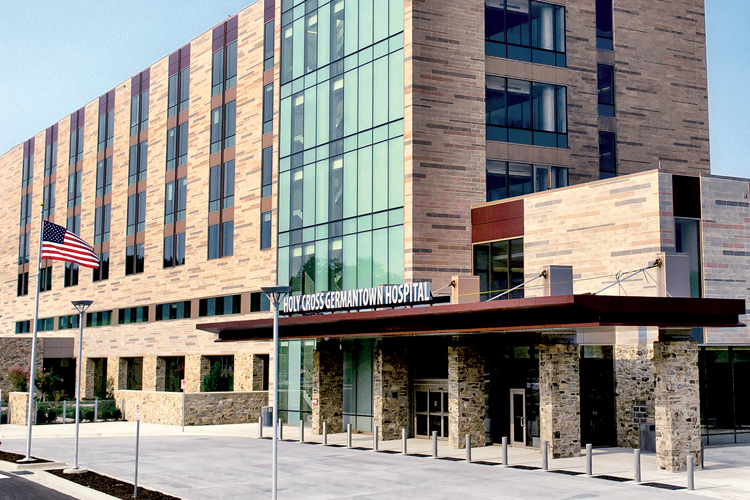 Holy Cross Germantown Hospital, the first new hospital in Montgomery County in 35 years, opened last October on the Germantown Campus. It is the only hospital on a community college campus in the United States. Located off I-270 at Observation Drive, the 93-bed, six-story facility provides emergency, surgical, maternity, neonatal, and psychological care for up-county residents; for students, it adds much-needed sites for nursing and other health science clinical rotations, as well as new opportunities for undergraduate research and observation/shadowing.
"Students in other fields, such as bioengineering, may benefit as well," says Margaret Latimer, vice president and provost of the Germantown Campus and the College's Science, Technology, Engineering, and Math unit. "Information security is a critical concern in the health sector," she says. "We are exploring opportunities for our partnership to include cybersecurity students."
For more than a decade, Holy Cross Health has supported the College's health science and nursing education programs with gifts totaling $1.1 million. The funds have benefited students through the Biomedical Careers Pathway Program, the Who Will Care? Fund for Nurse Education, internships, health science scholarships, and resources like molecular modeling software.
Holy Cross also opened a community health clinic in 2004, in the Health Sciences Building on the Takoma Park/Silver Spring Campus. The clinic provides care for uninsured and underserved patients while offering community-based clinical experience for student nurses. Holy Cross personnel handle patient care and serve as clinical adjunct faculty, working alongside College faculty in supervising and evaluating students. At Germantown, a similar scenario will follow the down-county model, while opening doors for hospital staff to guest lecture, mentor students, and teach.
Under a new five-year agreement, the College and Holy Cross Health will continue to prepare qualified nurses and other health care professionals, a perennial workforce demand. The original partnership helped expand nurse enrollment at the Takoma Park/Silver Spring Campus by 38 percent and graduation by 48 percent. Holy Cross supported the partnership with contributions totaling $600,000 for capital and program enhancements.
At Germantown, where the College is developing the Hercules Pinkney Life Sciences Park, the hospital is the anchor tenant. Over the next several years, the park will be developed with other business, government, and nonprofit tenants. The blended resources and interaction among business tenants, students, faculty, and the community creates an integrated academic, business, and research environment the College hopes will serve as a national demonstration model.