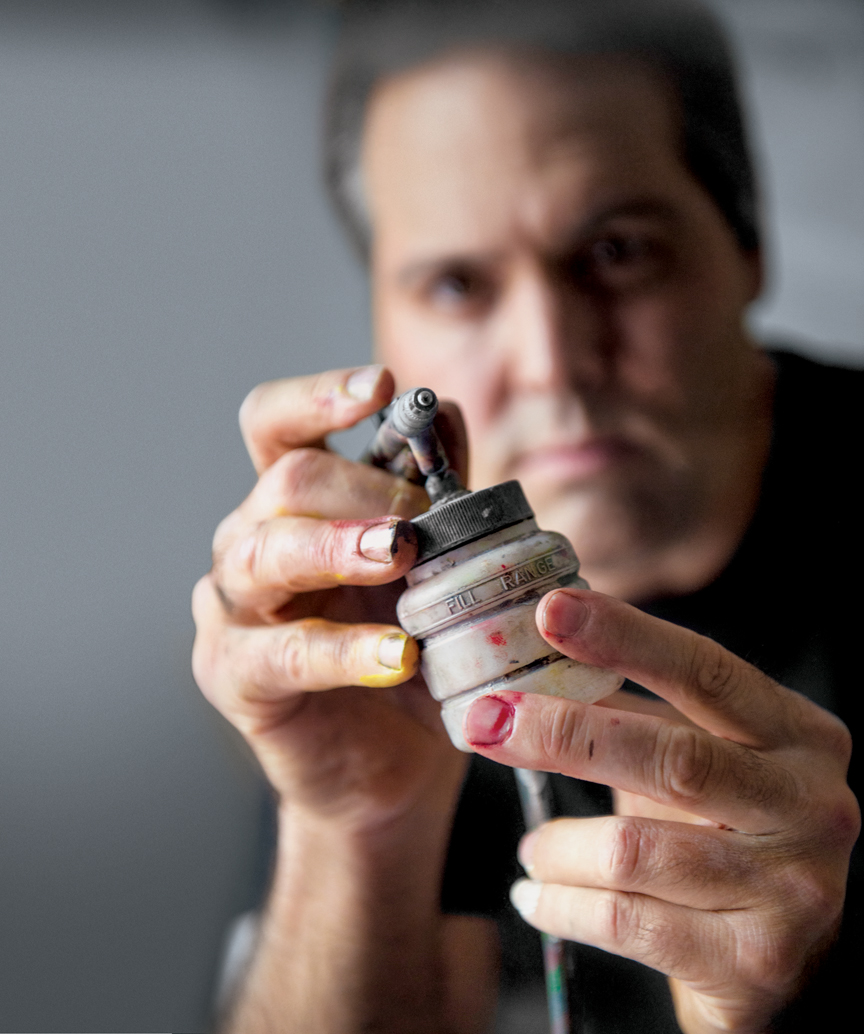 "I was standing on the sideline at a University of Maryland football game, watching the state flag flying over the end zone. I remember turning to a colleague and saying how cool it would be to have a flag waving, in motion, on a Maryland football helmet. A light bulb went off in my head and the idea came to me out of thin air. I knew who could get this helmet done," says Adam Clement, creative director of team sports at Under Armour. Clement contacted Peter Fréchette '90, an airbrush artist who designed a hockey helmet for Clement more than a decade earlier. After discussing the parameters of the project, Clement and Fréchette came up with a comp—a single helmet. "It was amazing. It was so beautiful, so artistic, so detailed. It was exactly what I had envisioned in my head, but I could absolutely never execute it." says Clement.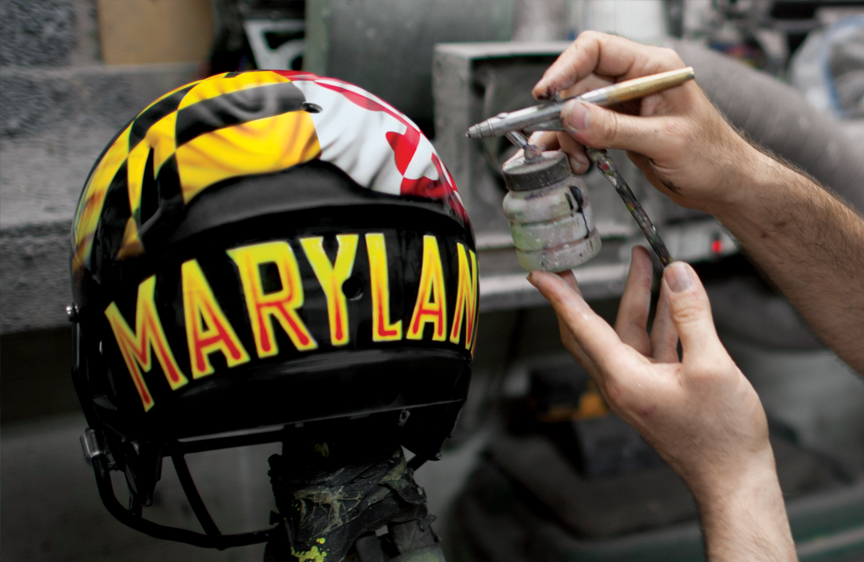 Fréchette and Clement spent months working closely with helmet manufacturers, testing the types of paint and the amount of paint Fréchette used, so the design would comply with strict standards for football helmet safety.
After getting the go ahead, Fréchette spent roughly four months airbrushing 250 helmets for the Maryland Terrapins football team. Fréchette airbrushed each helmet, adding nuances in shading and highlighting, which enhanced its unique quality. Fréchette hand numbered each helmet in the first series 1/250/S1, making each one a work of art. Clement believes the helmets will be collectors' items. After players wore the helmets in a game against West Virginia University on September 21, 2013, the university auctioned off all the helmets, except one, which sits on the desk of Under Armour founder and CEO Kevin Plank.
For Fréchette, making works of art came at a young age. "I have a picture I drew when I was two or three," he says. When he was a teenager, his mother enrolled him in classes at the Maryland College of Art and Design in Silver Spring. He loved the classes. And when he finished high school, Fréchette enrolled at the College as an illustration major.
"There were a lot of talented professors at the College," says Fréchette. He enjoyed Professor Joan Rosenstein's drawing class and Professor Dan Voss's fashion illustration classes, and he extolled the virtues of Tom Barnett, who taught illustration. "Professor Barnett taught me the basics," he says. "I learned about colors, composition,
vanishing points, horizon lines, and foreground and background. I did a lot of pen-and-ink projects in his classes. Fréchette gave his mother many of the art projects he created at the College.
After finishing at MC, Fréchette spent his early 20s trying to find an artistic niche upon which he could build a career. He tried tile setting for a construction company, and he did screen printing and designed logos for a T-shirt company, but, as he admits, it was not very fulfilling work. "I didn't want anyone overseeing me. I wanted freedom to do what I wanted with my art," he says.
That is when he bought an airbrush and, as he describes, stacks of airbrushing books. He pored over the articles, and perfected his craft on weekends and off hours. "After about a year, I was doing great stuff," he says. By his late 20s, Fréchette was making enough money airbrushing to do it on a full-time basis.
"I love airbrushing," says Fréchette, "But it isn't for everyone. It's uncomfortable for a lot of artists," he says. He explained that airbrushing techniques are counterintuitive to most art. "In drawing, when you move slowly, the line is straighter. In airbrushing, the faster you move, the straighter the line is. An hour of airbrushing is like seven hours of pencil time."
"I like to make images come alive," he says, describing the shading capabilities of the airbrush.
Fréchette started designing motorcycle helmets. He remembers doing the first one for a friend. Cycles USA in Silver Spring displayed it, and in Fréchette's words, it took off like wildfire. His business came from referrals and word of mouth. People asked him to design hood liners for show cars, and airbrush scenes on their motorcycles. "I was doing 15 to 20 helmets a week, but I wasn't charging enough," he says. "As my skills and confidence increased, so did my prices," he says, noting that he still does price-friendly designs. He commits the same amount of creative energy to all custom requests, from a catcher's mask for a little leaguer to a show car. Fréchette believes that keeping the design quality at a consistently high level improves his advertising opportunities.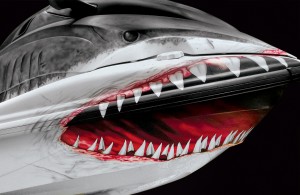 His affiliation with Under Armour brought some unexpected advertising perks. When the university unveiled the Maryland Pride 2.0 uniforms in September 2013, they created a YouTube video capturing Fréchette's work, in action. "It was a very short video and they didn't use my name," says Fréchette. "But a lot of people recognized me—and more people pursued me for work after the game."
Fréchette is getting motorcycle helmet requests from all over the country now, even some from Europe. He is also airbrushing show cars and jet skis. And, his college football helmet business is burgeoning.
This summer, he airbrushed 140 more football helmets for the University of Maryland and another 230 for Texas Tech, another university in the Under Armour apparel stable. Clement says Fréchette's helmet designs, like all aspects of team uniforms, have a profound effect on athletic recruiting.
"We do these things [like the helmets] to elevate the University of Maryland brand in the eyes of a 17- or 18-year-old kid who is choosing between playing for Maryland, Penn State, or West Virginia," says Clement. Fréchette would like to branch out and do more helmet designs for college and high school teams.
Because Fréchette's artistic talent extends beyond airbrushing, he wants to diversify. He would like to get back to his roots in traditional artistic training. A gifted painter, he created a mural for Cuba de Ayer restaurant in Burtonsville. And he dabbles in canvases of local sports figures, celebrities, and animals. When—and if—business slows down, he wants to get back to sculpting.
"Peter is an incredibly talented artist," says Clement. "His level of detail, his imagination, and how he creates pieces should be the aspiration of every artist."
—Jill Fitzgerald