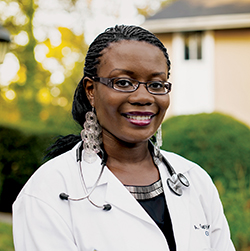 Dr. Gueye, the first recipient of the "Rising Star" young alumni award, is a resident in obstetrics and gynecology at The Johns Hopkins Hospital. After completing a bachelor's degree in biology from Hood College, she worked at the National Cancer Institute for a year, concentrating on breast cancer research and mouse genomics. During her years at the University of Virginia School of Medicine, she traveled to Senegal to research causes for an increase in cervical cancer cases, and to establish a national screening project for women. In 2010, she completed an MA in public health at The Johns Hopkins University, specializing in international and women's health. Amy graduated from UVA with an MD in May 2011.
Q + A
How many hours a week do you work?
100 hours on average.
What inspires you to keep going on days when you are worn out?
Knowing that there is a woman in despair waiting for me to alleviate not only her medical problems, but also her psychological burdens.
What drew you to the medical profession (and when)?
I decided to become a doctor at the age of 13 when I went back to Senegal to live for two years. The overwhelming health disparities shook me to my very core, and I vowed to become a part of the solution.
Who was your biggest influence/mentor?
My father. He taught me ambition, courage, persistence, and the power to believe in myself. He has made me who I am.
Any hobbies or outside interests?
Writing poetry, books, and children's stories, and spending time with my family.
What advice do you have for anyone interested in becoming a doctor?
It's a difficult path, so choose it for the right reason: because you love the field and you love to serve others. Once you have this, persistence, dedication, and the belief in something greater than you are will give you wings.
---
Honors
Please join us in honoring this year's Milton F. "Sonny" Clogg Outstanding Alumni Achievement Award winners and new inductees into the Montgomery College Athletic Hall of Fame. The awards ceremony will take place in April 2014.
2013 Milton F. "Sonny" Clogg Outstanding Alumni Achievement Award Recipients:
Marga C. Fripp '05
Founder, Empowered Women International
Pamela N. Saul '82
Accountant, Breslin & Young Financial Consultants, LLC
Treasurer/Office Manager
Rolling Hills Horse Stables and Show
"Rising Star" Young Alumni Recognition Award:
Dr. Amy H. Gueye '03
Resident Physician
OB-GYN Department
The Johns Hopkins Hospital
Montgomery College Athletic Hall of Fame Inductees:
Mark Crutchfield '91
Former Head Coach, Men's Basketball
Former Athletic Director
Montgomery College
Maurice Hicks '99
Football
Rob Moxley '90
Assistant Coach, Men's Basketball
North Carolina State University
Basketball
Coach Lisa Tehan
Health and PE Teacher
CYO Athletics Director
Girls' Lacrosse Coach
St. Jane Dechantal School
Tennis