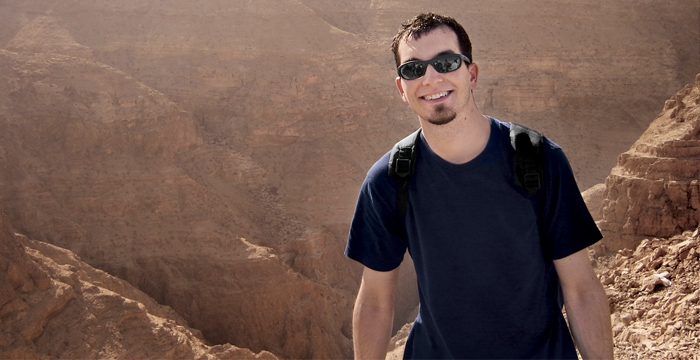 Adi co-founded a mobile gaming/applications startup company, Gamba Gamez, in Israel in 2013. Adi's firm successfully launched a movie trivia game, Reely, on the iTunes store and Facebook (Reely), and followed with a digital media suite, produced for a major broadcast that aired in Israel and internationally in spring 2014. The firm's mission is to provide digital media solutions as a ready-to-go platform for content partners. A graduate of the Macklin Business Institute, Adi later earned a degree in finance from the Robert H. Smith School of Business at University of Maryland. He returned home to Israel and worked in corporate finance at Jerusalem Venture Partners, a global venture capital firm, before starting his own company.
Q+A
What is the biggest challenge your new business venture faces?
Well, you can never have enough funding. Aside from allocation of resources, I would say it's having the ability to gather and focus the collective energy of the organization toward a vision in what is clearly a new and uncharted market and territory. Also, there is a lot of ambiguity in the unstructured nature of the start-up work environment. As an entrepreneur, I need to constantly reinvent my skills and product offerings to address the changing needs of the market. I have to be a few steps ahead of the game and foresee what's coming next.
What is the significance of Gamba Gamez, the company's name?
We just thought it would be a fun name. The word 'gamba' is a colloquial name for the red pepper in Hebrew, so it's a very light, casual, and fun name for a corporation—which suits the gaming industry.
Where do you see yourself in five or 10 years?
If there's one thing I have learned from the past five and 10 years, it is that I absolutely do not have an answer to that question, and that makes things more interesting. I need to be focused and patient to be able to identify the best opportunities as they come along.
Did you have any mentors or role models?
I am grateful to have started my career working with a manager dedicated to the success and personal develop-ment of my team. I have gained the most thorough hands-on experience, developed personally and professionally by going off the deep end, and being trusted—and assisted—in doing so.
What do you like about living and working in Israel?
The hi-tech environment here is fast paced, challenging, and fosters a unique environment for out-of-the-box thinking, and cultivating creativity and innovation. Anyone, regardless of age, seniority, or title can greatly contribute to an organization's success. When I started working in my first private sector position, I quickly found myself at the center of activity. Opportunities to learn, grow, and gain experience in new fields is practically unlimited. Living in Israel is like getting a bit of everything packed and concentrated into a small geographical area. There is a wide range of opinions and lifestyles, cultural diversity, and open-mindedness; when combined with the abundance of talent and high capacity to take risk… the culture fuels great ideas.
Macklin alumni hold annual reunions and stay connected via chapter activities. They are active on Facebook and keep in touch with their former professors. This year marks the program's fifteenth anniversary. More on the Macklin Business Institute can be found at macklin.org.