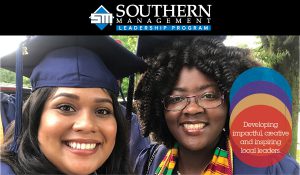 Southern Management Leadership 

Program
An Exciting New Name
The Same Life-Changing Program
For more than a decade, the Hillman Entrepreneurs Program has served as a gateway for local students from Montgomery College and Prince George's Community College to the University of Maryland, providing scholarships, mentoring and internship opportunities to those with an interest in entrepreneurship. We have witnessed wonderful success in the program, as our students graduate and go on to be a positive influence in their communities.
As we look toward the next decade of the program, we are excited to build upon the successful model established by the David H. and Suzanne D. Hillman Family Foundation. In recognition of this growth, we are pleased to announce a new name for the program, the Southern Management Leadership Program. The Hillman Family Foundation and Southern Management Corporation remain committed to investing in this program and developing impactful, creative and inspiring local leaders.
While the name and look of our program has changed, its core components and staff remain the same. We look forward to continuing to lead the program and the students to reach their full potential in the coming years. And we invite all of our partners and friends of the program to join us in continuing to celebrate and support the successes of all of our students. We look forward to the continued success of this unique educational model, and the success of our graduates in the years to come.
Sincerely,
Gül Branco, Rebecca Razavi and Ruth Lewis
Directors
Southern Management Leadership Program
#montgomerycollege #princegeorgescommunitycollege #umd #smlp