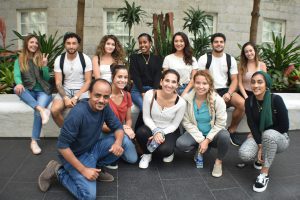 On September 20, the Hillman students all gathered at the National Portrait Gallery to be introduced to a wide array of leaders and innovators in American history–going back as far as
Anne Catherine Hoof Green, Madam CJ Walker, Julie Packard, and Benjamin Franklin and the original Men of Progress right up to current portraits of living movers and shakers, including LL Cool J, and Bill and Melinda Gates, and the marine biologist Joy Cho. As Aisha Khan explained, "Going to the National Portrait Gallery was a great experience. The rooms were filled with portraits of numerous people who have impacted the world is various important ways. From innovative entrepreneurs to inspirational pioneers, these people were all worthy of remembrance and deserved their spots on the walls."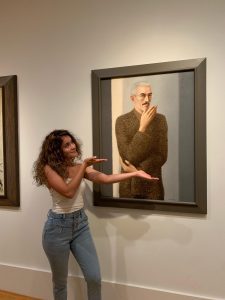 Nicole Vance, Gallery Educator and Curatorial Assistant at the Gallery, provided a deep and interesting exploration of seven chosen portraits and then helped students find additional portraits of people they might be interested in or parts of the museum they might find interesting. The students then took their time to find a person in the museum that "spoke to them," and began to study those portraits in preparation for a research report they would prepare when they returned.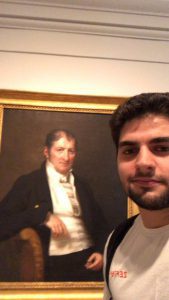 One of the interesting aspects of this trip are the selfies each student takes with their chosen subject–as  they find great ways to connect — from an initial interest in the medium or arrangement of the work of art to something that strikes their curiosity to learn more to finding someone that is in their own field.
This is the fourth year, the Hillman students have had the pleasure of making this trip together and are so grateful for the expertise and generosity of the NPG's excellent educational docents in making this a valuable way to learn not only about the Gallery and how one can learn from a work of art, but also to see the wide variety of well-known and not-so-well-known iconic figures in American history.