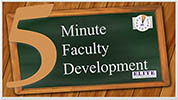 Are you looking for faculty development in a snap?
Each ELITE faculty development video highlights instructional strategies and focuses on practical and proven teaching strategies to improve student engagement and success.
The 5 Minute Faculty Development resource of videos offers information that instructors can access anytime through just-in-time professional development.
If you are interested in sharing your tips, ELITE is presently accepting proposals. For more information, please contact Gloria Barron at Gloria.Barron@montgomerycollege.edu or 240-567-6974.
---
————————Featured Video ————————-
History in the Making: Documenting Stories of Immigrant and Refugee Students at Montgomery College
by Heather Bruce Satrom, Professor of English Language for Academic Purposes program at Montgomery College.
History in the Making: Documenting Stories of Immigrant and Refugee Students at Montgomery College is the product of Heather's recent sabbatical work.
This OER is a collection of oral history interviews involving 17 remarkable individuals, all of whom are either current or former students of Montgomery College, from 16 nations. In these conversations, students recount their journeys and challenges. Many of the students experienced the effects of war, forced displacement, political upheaval, natural disasters, and health crises. Their accounts describe their experiences in places like Afghanistan, Syria, Iran, Ukraine, Ethiopia, and Venezuela.  From these nations and others, these students bear witness to moments that have indelibly shaped their lives.  Examples include the Fall of Kabul in 2021, the Battle of Aleppo in Syria, and the coup d'état in Myanmar during the same year. Each story illustrates the courage and resilience that is present in our interconnected global community of international students. In addition to the oral history interviews, this OER includes biographies, photographs, and links to articles and websites that delve deeper into the students' lives. Additionally, the site includes questions for reflection and discussion.