Submit
We accept submissions from January 1 – April 1 and again from July 1 – October 1. Please send us only one submission at a time per reading period. Send your work via Submittable at PotomacReview.Submittable.com.
We try to respond within four to six months.
We happily read simultaneous submissions, but ask that you let us know as soon as a work has found a new home. Please see guidelines below for withdrawing your work if another publication has accepted it.
We do not accept multiple submissions.
Contributors will be compensated with two complimentary copies and a 40% discount for additional copies.
Questions? Email: PotomacReviewEditor@MontgomeryCollege.edu
Fiction & Nonfiction
We'll read stories and essays of any size, though typically we find it difficult to make room for works that run much longer than 7,500 words.

We enjoy non-fiction narratives and creative essays; we're sorry to say we do not accept academic essays. If it's something in between? Feel free to try us.
If your work has been accepted elsewhere, please withdraw it from Submittable. We will be happy for your success, and happier to avoid confusion down the road.

Store
Two-year subscribers receive this complimentary canvas tote bag!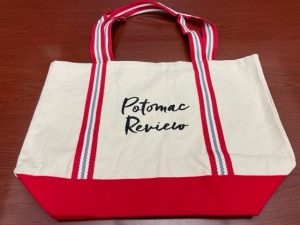 Or, if you prefer the analog approach, download a subscription form (PDF), fill it out, print it, and mail it to the address below with a check payable to Potomac Review/Montgomery College.
Mail to: Potomac Review
Montgomery Collge
51 Mannakee Street, MT/212
Rockville, MD 20850