Join the Montgomery College Journey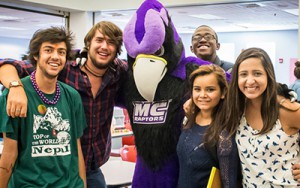 Choose how you can be part of the Montgomery College mission of student success. Whether you are a student, former student, parent, faculty member, staff member, business leader or other resident of our community, your passion and energy can make all the difference as we continue to transform Montgomery College.

Montgomery College is steadfastly dedicated to student success – your success. Join the 60,000 students who each year choose Montgomery College to change their lives. Enroll at Montgomery College now.

Private donations from local businesses, foundations, community leaders, alumni, and college faculty and staff help provide scholarships and programs that support Montgomery College students. Donations for academic and other special programs enhance areas such as the arts, humanities, business, athletics, biotechnology, engineering, workforce development, and health sciences.
Follow Montgomery College

Following us on social media is an easy way to stay up to date on what's happening at Montgomery College and to stay engaged with students, faculty, Montgomery County leaders, and others in the MC community.

The Alumni Association at Montgomery College keeps students and their families connected beyond graduation. Members enjoy benefits such as scholarship opportunities for your family, library privileges, discounts on select services, MC news publications and much more. Join the Alumni Association today.
Tell Us Your Story

How did Montgomery College change your life? Our students often share compelling stories of the ways their MC experience helped them reach their goals. You can view a sample of these student stories on our MCWorks4Me page. What's your MC story? Tell us here.
Volunteer to Serve

Put your experience to work as a volunteer member on one of the College's workgroups, taskforce, or projects.
Join Our Adjunct Faculty

Share your knowledge as a member of the College's adjunct faculty. There are always opportunities to teach courses for a wide range of academic programs, and there's nothing more rewarding than enhancing our students' success!
Offer a Job or Internship to MC Students or Graduates

Job and internship opportunities mean so much to our students, and they are a smart investment for your business. Our team is standing by to help match your opportunity with the best MC talent.

Subscribe now to receive the latest Montgomery College news, or browse news stories about MC students, programs, faculty, and staff.

We invite you to visit our beautiful campuses…