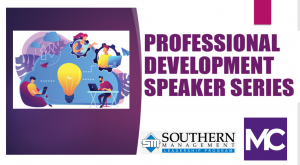 To ensure that our students continued to have the opportunity to meet and learn from all types of people in our community despite what would become an extended lockdown for all, In September 2020, the Southern Management Leadership Program launched the Professional Development Speaker Series for College Students. All past episodes are available on Montgomery College's YouTube channel and can be viewed here.
Over the course of two semesters, SMLP hosted a total of sixteen episodes on a wide variety of topics of interest to students in our MC community:
The fall season opened with Jordan DeCicco, a student at the Universities of Shady Grove who was a contestant on Shark Tank!
Other entrepreneurs, including Dan Simons, the founder of Founding Farmers Restaurant, and a panel of young successful entrepreneurs who are part of the Goldman-Sachs 10K Small Business initiative added their experience to provide a wide range of advice and tips to students interested in starting a business.
These speakers were interspersed with a group of experts from our business community, including the president of the Rockville Chamber of Commerce, the president of Bethesda Green, and the president of MC's Toastmasters chapter.
Three powerful local civil servants—Jamie Raskin, Will Jawando, and Rushern Baker—also joined the series to share their wisdom and encouragement to students wanting to make a difference in the world of policy and politics.
And what would be a community college speaker series without the voices of our alumnae, including a fascinating episode from an MC alum and computational neuroscientist on how to improve the well-being of all people and an SMLP graduate currently working as a CPA in Florida.
The season concluded with an information session on the Southern Management Leadership Program, with a panel of current students and graduates who spoke to their experience in the program and answered the questions of prospective students.
The series is planned to continue next fall and speakers are already being lined up to continue the conversation with our students and to support their professional development.