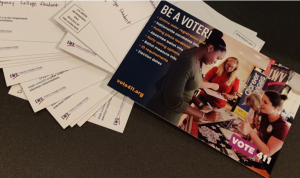 Montgomery College's Southern Management Leaders reached over 400 voters in Montgomery County–in districts that historically have low voter turnout–with personal messages of encouragement! Working with the League of Women Voters and Student Life, each student committed to writing personal messages on informational postcards that the League then mailed directly to voters on those rolls.
What's the message?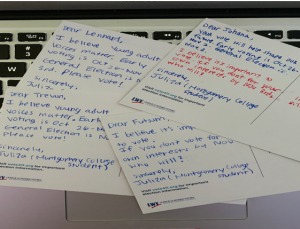 Your Vote Matters!
Vote Early!
If you don't vote for your own interests, who will?
Very Important Dates!
All eligible citizens to register to vote–the deadline is today, October 13!!!!
If you are planning to vote by mail, you also need to request your ballot by October 20!!!!
Your mail-in ballot must be mailed or dropped in a drop off box location location by 8 pm on Election Day, November 3.
If you mail your ballot, it must be postmarked on or before November 3, 2020 to be counted. The Board of Elections is asking us all to get our ballots in the mail as soon as possible to avoid delays in counting ballots.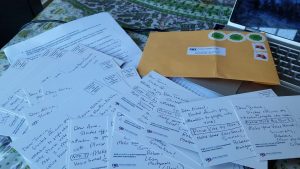 You can take care of all of this at the MD Board of Elections site.
And check out Vote411.org for nonpartisan information on all candidates and issues
#MCVotes