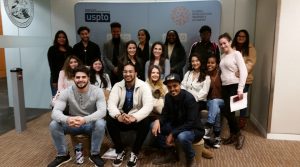 The U.S. Patent and Trademark Office is an entrepreneur's best friend–when you know how it works!  On Friday, November 8, the Southern Management Leaders had a deep dive into what it means to protect your intellectual property as well as how to start the process of getting a trademark or a patent.
Starting by gathering in the USPTO's library, which houses paper documents going back decades as well as information for potential trademark and patent application filers, the students then met with seasoned experts in intellectual property to more fully understand what is available to inventors, entrepreneurs, business owners, and innovators who want to protect their inventions and their branding. Many thanks to Elizabeth Dougherty, Eastern Regional Outreach Director of the USPTO; Kathleen Cooney-Porter, Senior Trademark Advisor; and Dennis Forbes, Marketing and Outreach Coordinator! But that wasn't all!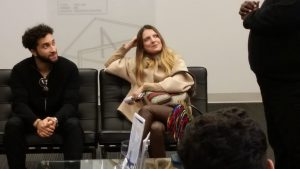 Taken through a whole-body experience designed to help students think like entrepreneurs with a new product design, the students considered the pros and cons of a variety of chairs–each with its own unique qualities. What did they like? Who did they think the chairs were designed for? Which ones were most comfortable? Where would they be found? Questions like these formed the unique experience of how an inventor might improve on what is a basic piece of human life–the chair! But that wasn't all either!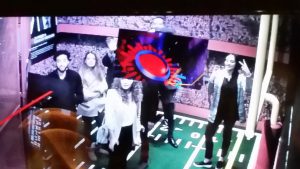 After the presentations, after conducting these informal focus groups, the students were also treated to a personal tour of the USPTO's National Inventor's Hall of Fame and Museum. Highlights included hearing about inventors who changed the course of human history as well as those who worked to solve individual challenges of people with severe disabilities. The photo to the left shows our students parading through a model of the technology we see every time we watch national televised football, with the virtual first-down line that appears like magic on our screens.
This trip to the USPTO is always a highlight–both for the interesting things we learn about invention and business, but also because it is a way for the students to begin to think about how they are going to protect their intellectual property going forward. A positive experience like this can make it far less intimidating to start this process. We're all excited now to see what great ideas will become the disruptors of our society–thanks to the Southern Management Leadership Program!
#montgomerycollege