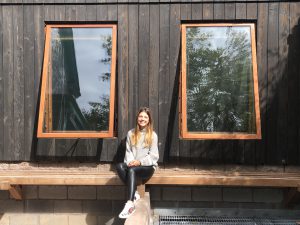 On Saturday, October 19, I went on a tour organized by American Institute of Architecture in Washington, DC. Two young architects, Andrew Linn and Jack Backer, presented their studio, which construction was finished recently. They named it "The Grass House." This house is made of natural materials, and Andrew showed and described all materials that they used. He also talked about challenges that they faced because of the historic district regulations. He said that it took five years to obtain all necessary permissions to be able to start building The Grass House, which is actually a tiny house.
The whole house is made of wood complemented by interesting interior design solutions. There is a very cool interior wall made of willow branches that adds texture and color to the room. The wooden panel inside are charred, so they reveal a wooden pattern. In the bathroom, there are shelves with bird's nests, and all lighting are made of new material called MycoComposite that is made of mushroom mycelium. (https://ecovativedesign.com/)
From this community engagement I've learned a lot about using different materials in design. I also learned about aspects of historical districts in Washington, DC.
#montgomerycollege