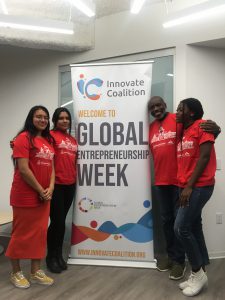 By Jenifer Ramirez
On, November 15-17, Techstars, which is linked with Google StartUps hosted the Techstars Startup Weekend D.C. / M.D. / V.A. Latinx in Tech in Washington D.C. For 56 hours, people with different backgrounds would develop business ideas together and present them by the end of the weekend. Of the 22 initial StartUp pitches, only eight were chosen to pass to the second phase of the competition—and my idea was one of them. I pitched the idea for an app that helps college students find jobs in the hospitality industry that would be for a few hours a week located close to home.
By the beginning of the second day, we already had work teams. My team included two high school students, Agnes Signou and Elisa Sosa, and an IT professional, Marcos Constantino Wilson (featured left). At the beginning, we focused on what the app would look like and the features that it would have. But, after talking to different business people in marketing and operations, we realized we were forgetting the main goal, to make the app profitable!
This experience taught me that even for an app, the business plan always comes first. It also helped me understand what kind of leader I was, what are my strengths and my weaknesses. For instance, I rely on my team and make them feel confident to share their ideas, but I also tend to stress easily and I have to take breaks every other hour.
This weekend was a great experience. I met a lot of people from the D.C. area that like me are looking forward to starting their own business and changing their community. I would love participating in another event like this or even helping to host another one in Maryland!
#montgomerycollege