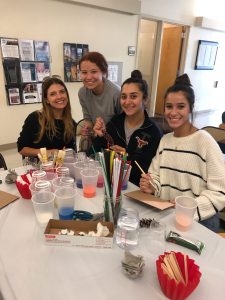 by Talita de Oliveira
As a college student, exam week is frantic and causes stress hormones in the body to increases significantly. On October 15, four Southern Management Leaders–Olga Shuklina, Fatima (Celeste) Melendez Velasquez, Ava Edalatkhah, and myself–attended a "Tuesdays at Two" session on the Germantown campus of Montgomery College that taught us just how creativity and art therapy can serve as "de-stressing" factors during midterm week.
I took away a few important lessons from the lecture before getting a chance to participate in hands-on activities with other members from the Southern Management Leadership Program. Stress is none other than the body's fight or flight reaction to different experiences in life. It is important that stress can lead to several mental health issues from depression to anxiety in the long run. It is also one of the major causes of heart attacks and strokes, due to the fact that stress hormones directly affect one's respiratory and cardiovascular systems. When you are stressed, your breathing becomes heavy, blood vessels narrow, and the heart beats quicker. This is all in an attempt to distribute oxygen throughout the body quickly and bring the body back to its normal functioning state.
Art acts like a medicine that cures stress; Not only does it promote relaxation, but it also is a form of self-expression. This event allowed students like me to have a clear perception of our own personality, thoughts and emotions, which we could then translate into our artwork.  We were given the opportunity to work with different art supplies such as paint, oil pastels, modeling clay, and objects found in nature (leaves, sticks, dried hydrangeas, pinecones…etc.). Utilizing everyday objects allowed us to expand our artistic horizons. Throughout the entire session, my train of thought would wonder, and I do not recall thinking about schoolwork at all. The atmosphere was tranquil, and I felt at peace with myself. Not only were my stress levels reduced, but I learned several art techniques I didn't know existed before, expanding my overall knowledge of art. From here on out, I want to incorporate these techniques into my day-to-day life, spending some of my free time painting and sculpting. This could potentially turn into a new hobby for me and will help me become a more relaxed individual.