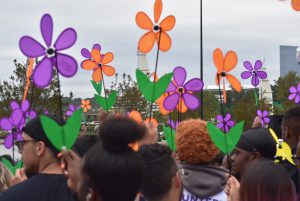 On September 14, the current cohort of the Hillman Entrepreneurs Program at both Montgomery College and Prince George's Community College arrived at the National Harbor at 7:30 a.m. to support the annual Walk to End Alzheimer's. Students rallied together to register participants for the walk, sign attendants up to support Alzheimer's research, provide refreshments, and cheer on the walkers as they circled the National Harbor. As the crowds dispersed, the students stayed on to help break down the event–there from start to finish.
This is a wonderful opportunity for our students to learn that they have the power to be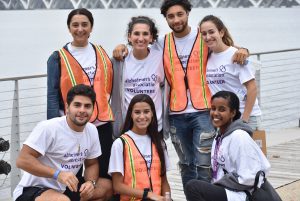 part of something bigger than themselves and to develop their empathy for families and individuals who have been touched by Alzheimer's Disease. As one student shared, "I was so happy to see how happy everyone was even though these people have had a real tragedy, they seem to be lifted up by everyone coming out to support them."  This year, this Walk to End Alzheimer's event raised over $132,000 and included over 1,000 participants.
To learn more about impact of Alzheimer's disease and the research that is currently underway, visit the Walk to End Alzheimer's website.