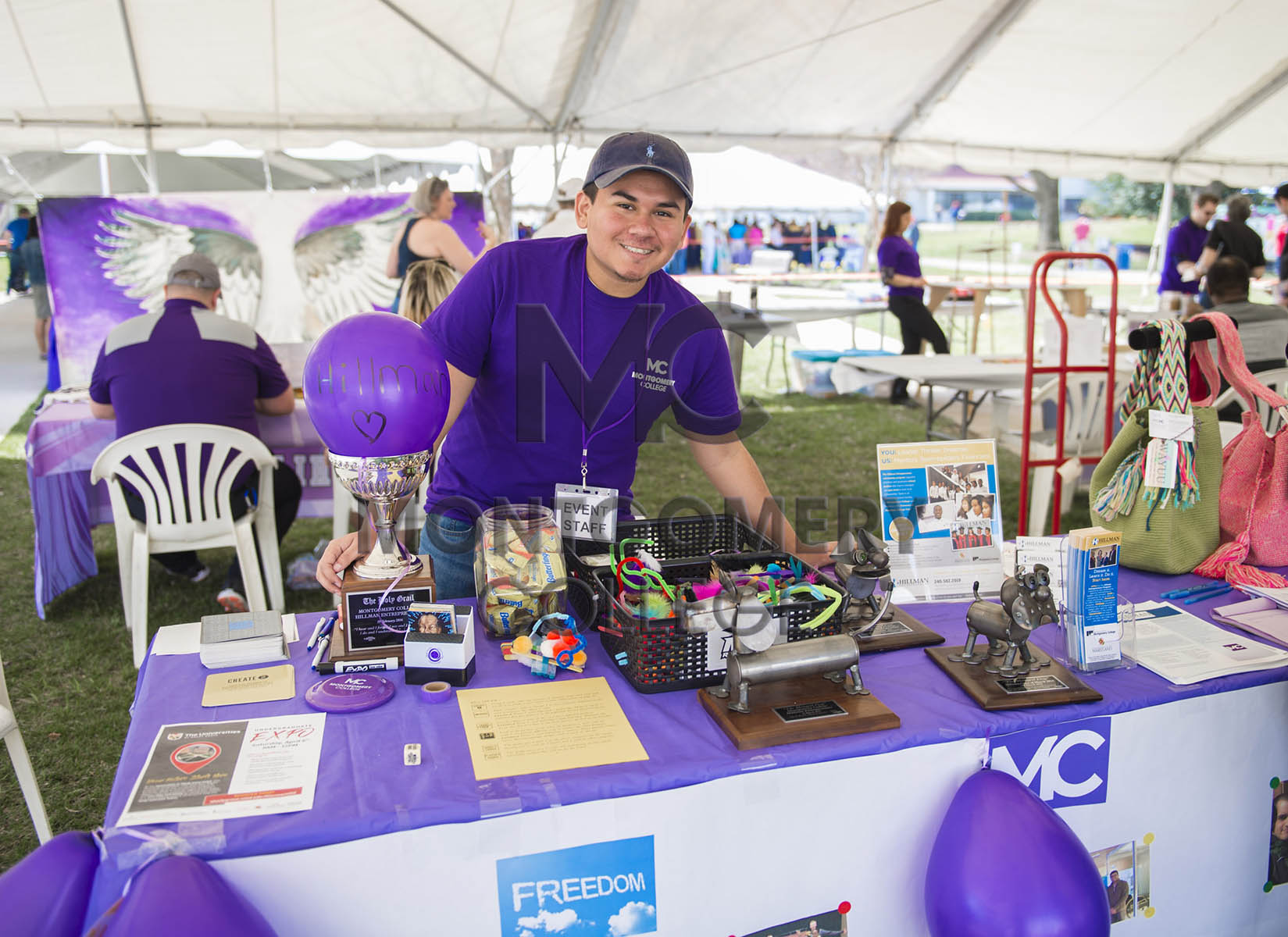 On March 30, the Germantown campus of Montgomery College celebrated its 40th birthday with a highly successful Community Day. The Hillman Program, which calls this campus "home," was all over this event!
Students helped at the information table, gave tours, manned a prize wheel, and were there to set up and clean up.  Three Hillman students were involved in giving campus tours: Sierra Madden, Loretto McInerney, and Callie Etches. Loretto explained why she loved doing the tours: "Firstly, because I got to conduct the tour with Callie and Sierra, two of my fellow Hillmaners and now very close friends, which was very fun. Secondly, because the woman we guided around campus had an inspiring and familiar story. She came from Peru about three years ago and had been studying English since she got here. She was taking free classes offered by the county, but now she can afford to take classes at the college…. . It was heartwarming to see that she was excited to be back in school, especially in a new country, and to see that she liked this campus as much as I do. …. It reminded me of how fortunate I am to have access to a higher education because some people have to go halfway across the world and work incredibly hard to have what has been given to me." Callie added, "Working alongside Ms. Surayya Johnson [Director of Student Life] was a great opportunity to practice my communication, teamwork,
and brainstorming skills. Also, by participating in this event and leading campus tours, I was able to strengthen my public speaking skills and my leadership abilities."
Stella Perez shared some of the lessons she gained from the event as well, sharing "Community Day was an opportunity to come together, both staff and students, and volunteer to provide an event that unifies the members of the community. I learned the importance of providing a platform for locals and their surrounding businesses. It provided me with a view of the hospitality needed to be presented to the public, which will encourage them to participate and try new things. A sense of trust and guidance helps people feel less hesitant to explore and participate, more likely to recommend the experience to others and participate again.  I will be able to take this experience with me to my future endeavors through the guidance it provided. I was also able to understand the aspects that go into planning a big event, the resources needed, and what could be provided to potential clients to keep them satisfied. It is important to create visibility to what the community can provide for the clients, and what they can provide for me. The connection created with the community is vital to the growth of any company."
In addition, we hosted a wonderful table representing entrepreneurship at Montgomery College, with information about the Hillman Program, Enactus, and the upcoming Entrepreneur and Small Business Owner Symposium scheduled to take place on campus April 18 and 19. As described by Hillman student April Tun, who helped with the event set up as well as the Hillman table, "We had our prizes, fun innovative games, mongrel dog trophies won by all of the Hillman cohorts, Enactus hand-made bags, and our Entrepreneurship sign ready which a few Hillman students decorated the night before. It was a very exciting day. We did not exp
ect many children to be attracted to our table and to spend their time building the prototypes with the materials we have. I believe the children are the most creative of all ages because during those times, there is no limitation or setbacks enforced by the media and the people which tend to happen when they grow up."
April also shared that she "met a lot of new people and won many prizes such as headphones, key chains, tote bags, sunglasses, and a hat simply by going around the tables. I saw the Biology department showcasing the bones of the sea and land animals. The professor at the Psychology department was giving out PRIME playing cards when we do the activities presented such as when we cover one eye while looking straight at the dot on the picture, the object beside it slowly disappeared…. There was also a showcasing of a robot that can talk back to people, which makes me wonder what humans can achieve within a few decades since the technological developments are advancing at a fast pace with the inventions of drones, flying cars, ability to take people to Mars, and artificial intelligence.