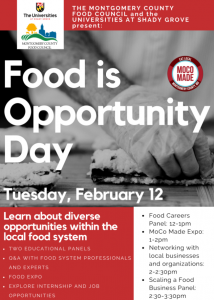 by Caroline Ta
Last Tuesday (February 12, 2019), I attended "Food is Opportunity Day" hosted by the Montgomery County Food Council and the Universities at Shady Grove. The event was for students, local organizations, local food and beverage businesses, and buyers to connect, network, and develop educational relationships. The event began with a "Food Careers" panel featuring local professionals with different experiences in the food industry and followed with a the Moco Made Expo, where small business owners put out samples of their products for people to try! There were different businesses varying from baking, microgreens, salad dressing, salsa, seasoned rice, and even dip mixes. Aside from the food tasting, there were also internship/job opportunities from a few of the businesses showcasing their products. The event was so well done and a great opportunity to get to know more about these local business and the people behind them.
From this event, I learned that there are so many small businesses in our area and how many great businesses there are. I did a presentation on "Reasons to Shop Locally" last year in one of my classes and going to this food event reminded me of why people really should try to shop locally. Not only does it keep the money circulating within our economy but it helps people in our community by providing more local jobs. Not only did this event remind me to shop small businesses, but it also taught me the importance of networking! I was able to meet so many new people at this event and learn more about the food industry and why these people were so passionate about their business/what they do. The event also taught me more about healthy eating choices and about organic foods. There are so many businesses in our area that specialize in so many great products and I would have never found out about them had I not gone to the event.
Through this event, I want to start shopping locally. Some of the businesses at the expo have their products at Butler's Orchard, the Central Farm Market, and other local areas. Shopping locally can influence others to shop locally and also support our community as a whole. Aside from shopping locally, through the importance of networking, I know when I go to different farmer's markets in our area, I can use my networking skills learned from our classes as well as from this event to connect with other businesses.

Editors Note: Visit Caroline's business, SweetsbyCaroline, here to learn more about her business venture and place your order for your next event (or sweetheart!). Caroline was also the first place and audience choice winner at this year's MC Raptor Tank! She is also a proud member of the current Hillman cohort at Montgomery College.