"We're not waiting to be saved. We're saving ourselves, despite all odds." –Mónica Ramírez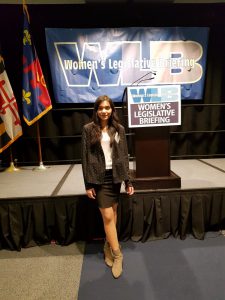 by April Tun, Hillman cohort of 2018-2019
On Jan 27th at 11:30am, I arrived at the Building 2 of Universities at Shady Grove for the 39th annual Women's Legislative Briefing (WLB) coordinated by Montgomery County Commission for Women. The event brings together policy makers, advocates, emerging leaders, and many more empowered women from the state of Maryland. I was joined on this event by Montgomery College President Dr. DeRionne P. Pollard, Student Life Director Chauncy Butcher, Service Learning Coordinator Nik Sushka, and a few other Montgomery College students who are greatly involved on campus. The general registration started at 11:30am until 12:30pm for settling in and for networking purposes with various organizations that came together to make this event possible. Some of those organizations include AARP, Kaiser Permanente, Planned Parenthood, Asian American Political Alliance, Epilepsy Foundation, and Diana and Bill Conway. The WLB ceremony started promptly at 12:30pm opened by Nicole Y. Drew, president of Montgomery County Commission for Women and Angela Quigley, Co-chair of 2019 Women's Legislative Briefing.
The attendees also received special greetings from Kelly Schulz, the secretary for the MD Department of Commerce, Marc Elrich, Montgomery County Executive, and John Sarbanes, U.S. House of Representatives.  It was then followed by the keynote speaker for the event, Mónica Ramírez. She touched on the topic of sexual harassment for migrant women. She is a long-time advocate and attorney to eliminate gender-based violence and achieve gender equity. She specifically focused on the gender discrimination against farmworker women. She explained how in the mid 1990s, there was a survey on farmworkers women on the greatest issue affecting them of working in the farm and 80% answered sexual violence. Two decades later, they were asked the same question and there was only a slight percentage difference on the answer of sexual abuse. She questioned whether the work that we, as advocates and feminists, are doing to bring on gender equality are truly making a difference in the population of farmworkers women.
The "Me Too" movement was first started by Tarana Burke who wanted to share this one message to the survivors of sexual violence: "You are not alone. That happened to me too." On October 2017, when the Hollywood film producer Harvey Weinstein was accused by various women in the industry of sexual misconduct, Alyssa Milano tweeted out from Twitter to use the #MeToo for the survivors of sexual abuse to share their stories with the world. Within a few hours, it turned into a global movement and translated into many different languages. The Pew Research Center found that the hashtag has been used more than 19 million times on Twitter since Milano's tweet (USA Today). It was only because a famous celebrity in the entertainment industry accused Harvey Weinstein of sexual assault, it was brought to a global attention. If it had not been a celebrity, I doubt whether it would bring much attention to the public. They probably would have settled the lawsuit quietly by giving money to that person (to shut her up). Excuse my language. It is understandable that all our effort has mostly been focused for people born with privileges. Now, it is time to focus on bringing gender equality and reducing sexual assault for minorities such as farmworkers women from rural areas, low-paid workers, women of color, and immigrants. Mónica ended her inspiring and enthusiastic speech by asking us, the attendees, to stand up, clap our hands and follow her on a chant which I am guessing was in Spanish but since I did not understand it, I only stood up, clapped my hands, and sat back down at my seat.
At 2:15pm, we had our networking break and then followed by the seminar series on topics such as Safety & Justice, Health Care for Women, Creating Change Through Leadership, and many more by speakers and panelists who are leaders from different organizations and are greatly involved on those issues. During the networking session, I spoke with amazing people from the event. One of them is Tabitha Harvey, an independent beauty consultant from Mary Kay Cosmetics. I had a chance to learn about Mary Kay Ash, the founder of the company. She was a great female entrepreneur and she changed the world of business by creating more opportunities for women and she disrupted the idea of male dominated workforce by empowering women to take on the roles of leadership. She inspired millions of women in her lifetime with her principles and beliefs. This day was absolutely full of inspiring people and positive energy.
One of my highlights from the evening was when Asia Parrott, a representative from Emerging Leaders, came up and spoke on stage. She is in high school and involves in various leadership roles in her community and at school. She looks no more than 15 but she spoke with such maturity in her voice that it inspired me. One thing that I learned from this event is that more women need to stand up and speak about the issues we are passionate about. This is a critical time as this is a time of change and we, as women, need to voice our opinions and make sure they are being heard without being getting interrupted. What is more is that there is power in every woman and girl across the globe and we must come together in bringing change into this world.
Works Cited
Brown, Dalvin. "19 Million Tweets Later: A Look at #MeToo a Year after the Hashtag Went Viral." USA Today, Gannett Satellite Information Network, 14 Oct. 2018, www.usatoday.com/story/news/2018/10/13/metoo-impact-hashtag-made-online/1633570002/.