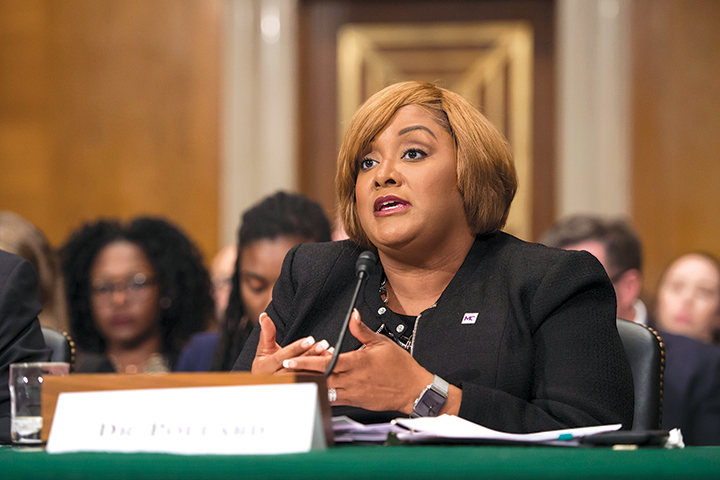 President DeRionne Pollard gave testimony on Capitol Hill and in Annapolis in February as part of an effort to persuade lawmakers to make higher education more affordable. She spoke to the US Senate Committee on Health, Education, Labor, and Pensions, detailing MC's efforts to close the affordability gap, which also helped make the argument for urgent large-scale reform.
Pollard suggested the committee expand Pell grants to workforce development programs and peg their value to inflation. Currently, federal rules define how Pell grants can be used and for how long, keeping some students from accessing them.
"[Community colleges] were created because enlightened people realized that higher education should not be reserved for a few. That giving more young people—and our returning veterans—the opportunity to earn a degree was a win for all. Because both the individual and the community benefit when good jobs are filled by an educated workforce."

— Dr. DeRionne Pollard
Montgomery College President
At the state level, she testified in favor of legislation allowing Maryland community college students the opportunity to earn an associate's degree or a certificate debt-free.
"I think we all know that this would be a win for our students, our communities, and our economy," says Pollard.
In both instances, Pollard demonstrated how MC programs already support students who are close to, or below, the poverty line. She cited the food pantries, emergency aid, open educational resources, loaner laptops, a clothing library, and scholarships, among other initiatives.
Former United States Secretary of State and Chairman of the Joint Chiefs of Staff General Colin Powell spoke at the Rockville Campus on January 30 with an audience of students and staff members. Montgomery College President DeRionne Pollard introduced him as someone who has been serving the public for more than 50 years through his vision, democratic values, and his passion for helping young people succeed.
Photo Credit
Pete Vidal