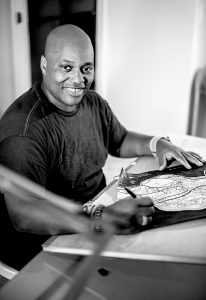 Derrick Douglass '11 wants to hold moments in time so he—and anyone else—can examine them more closely. Rather than use photography, the computer programmer-turned-graphic designer/web designer/web developer does this by putting pen to paper.
His pen-and-ink pieces are so intricate they almost startle. Through busy linear forms—patterns of swirls, arcs, angles, dots—he creates a mélange of textures that meld into stylized portraits and designs. Their complexity draws viewers in to see what is going on, an interaction that Douglass calls having a dialogue with the image.
"I like the challenge of taking a monochrome idea (binomial/white or black) and giving it texture, form, and elements to make it have power without the impact of color. Every color brings emotion to it. In black
and white, it is a different experience."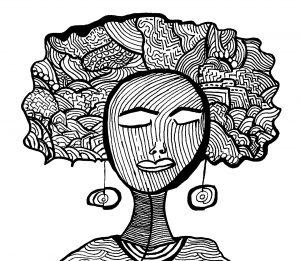 Douglass' current work in progress is a series entitled Sakini Mwali (Swahili for "strong quiet lady"). It features African-American female images, which he says were inspired during a trip to Morocco in 2016.
"I had been doing some pattern work already, but I was still ruminating on subject matter," says Douglass. "During that trip, I witnessed a group of women meditating, and I just had that 'aha' moment. It was the big bang: I knew what my next body of work would be."
Douglass has completed six "Sakini Mwali" of 10 total; all but one are 18 by 24 inches. He spends an average of 120 hours per piece, or about three months' time, working around his full-time job, consulting work, volunteering, and amateur photography. He begins each hand-inked sketch by experimenting with patterns in a 1/8-scale mock-up. He works ideas until they achieve harmony and synergy. Only when complete does he scan the image to create a template in which images of different sizes can be printed.
"So far, I am concentrating on the face, head, hair, and upper torso—there's a lot of power in that area of the body. But one of the 10 figures in this series might be a full form," he says.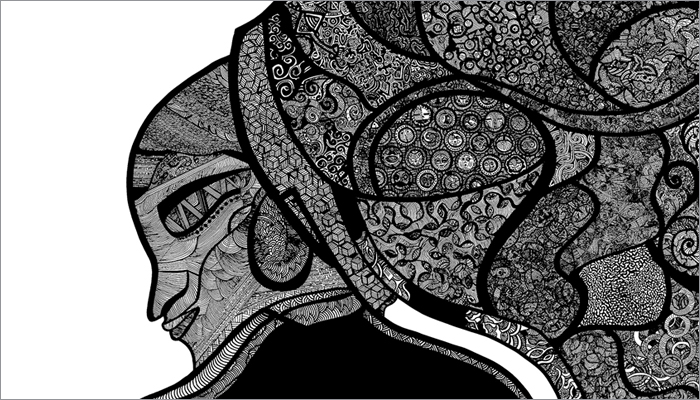 Douglass came to art after a 15-year career as a computer programmer and then time spent in graduate school. After completing an MBA in 2009, he struggled to land a new job—when the country was at the height of recession. His solution was to return to the classroom, this time for hands-on skills in graphic design, which he saw as an extension of his marketing interest.
MC's graphic design certificate program fit his schedule and his goals of acquiring skills complementary to his marketing background. Media arts and technologies instructor Valerie Burghardt, herself a graphic design and print professional, considers Douglass one of the most passionate students she has met in her 17 years at the College.
"From the first minute he came into the classroom, Derrick has been an enthusiastic and dedicated designer," says Burghardt. "His intelligence and mature outlook make him a standout. Whether offering constructive criticism of his own work or helping others, he's always engaged… He has reinvented himself with a dedication I've had the good fortune to witness. He embodies the best of what Montgomery College hopes for in their students."
A big believer in learning by experience, Douglass makes a point to travel. Each fall, he takes the train to New York for what he calls his "cultural week." It always includes a trip to MoMA, the Museum of Modern Art, art galleries, and places where he can just look around. International trips have included exotic locales. This summer he went to Senegal.
"Inspiration from those trips isn't always tangible," he says, "but I like to go out and see what's going on in the world, and I hope some of that can be interpreted in my work, such as textures, colors, amorphous things."
Closer to home, Douglass takes his camera to area events on weekends. "DC on a Sunday is the greatest city in the world," he says. "The richness of culture, the ideas, the Smithsonian… it's all right there."
—Diane Bosser
Photography by Pete Vidal
Artwork courtesy Derrick Douglass