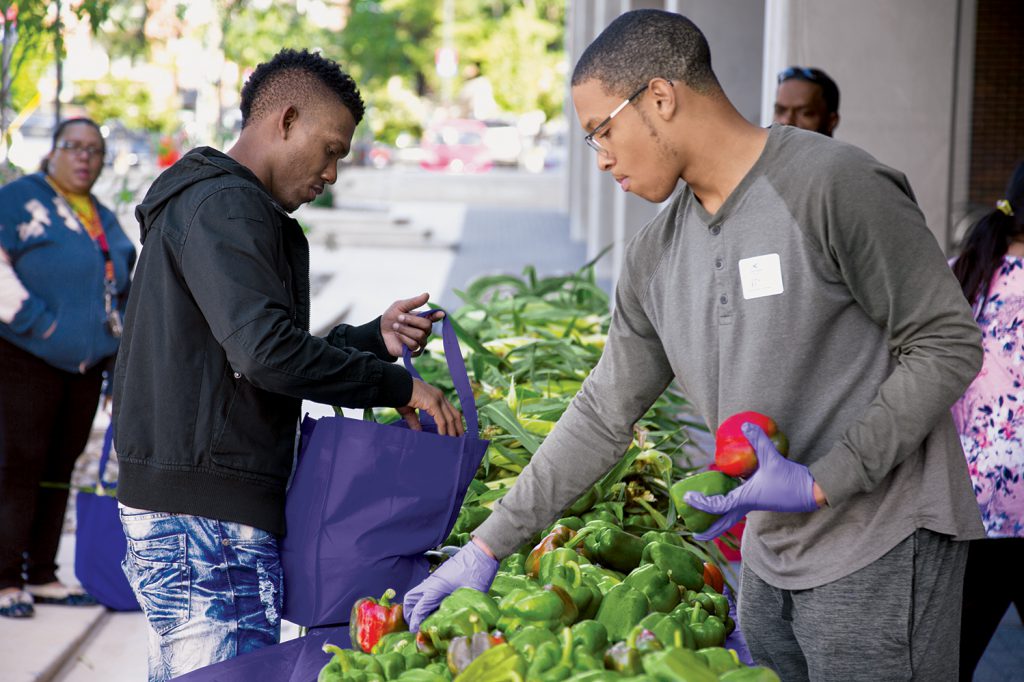 A Mobile Market program now brings fresh food to campus for students and members of the community experiencing food insecurity. Food insecurity, or reduced quality of diet and access to nutrition, can sometimes be overlooked at the college level, but it plays an important role in academic performance. The Mobile Markets, provided in partnership with the Capital Area Food Bank, will visit each campus monthly throughout the academic year.
During the first two Mobile Markets this fall, more than 7,000 pounds of fresh produce were distributed at no cost to students and members of the community. More than 400 participants/households received the produce, equating to more than 1,600 individuals, including nearly 450 children, 60 veterans, and approximately 150 seniors. Additionally, participants received prescription savings pharmacy cards.
The market events supplement the College's well-established food pantries, which offer dry goods, canned and jarred food, ready-to-eat snacks, and personal hygiene and cleaning products at all three campuses. The food pantries are supported by the Montgomery College Foundation, private donors, and the Macklin Business Institute's Enactus students. Faculty and staff routinely donate, individually, through periodic food drives.
A study issued in August by the Urban Institute and the Brookings Institution estimated that 13 percent of students at community colleges experienced food insecurity in 2015. Actual numbers may be higher, but they are difficult to ascertain because the estimates are based on households—which does not count students living elsewhere (such as those who are homeless or living in temporary situations).
In a separate article, "Hungry and Homeless in College," coauthors Sara Goldrick-Rab, professor of higher education policy and sociology at Temple University, and Professor Katharine M. Broton of the University of Iowa suggest the real number is much higher: "In our work [sampling college students from 2015 nationally], we estimate that about half of community college students have 'low' or 'very low' food security." As founder of the Wisconsin HOPE Lab, Goldrick-Rab has led the two largest national studies on the subjects of food and housing insecurity in higher education.
Even at MC, food insecurity data has been tricky to estimate. Sarah Ducey, collegewide chair for Integrative Studies and professor of nutrition and food, worked with the College's Office of Institutional Research and Effectiveness to survey students in select courses for the last two years to discover need.
"There is food insecurity in our classrooms," says Ducey, "despite what everybody thinks about Montgomery County being affluent."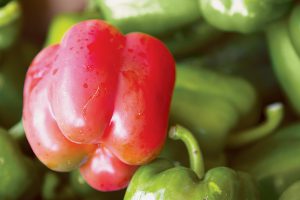 Ducey says the county's changing demographics account for some of the increased student requests for financial aid and support services. But, she admits, the need can vary.
"Our students' situations change tremendously during their time here," Ducey says. "Their living arrangements are sometimes tenuous, and many have the added responsibilities of family and work. When they have a need, we want to help."
Through its Student Health and Wellness Center for Success, the College has committed to addressing various insecurities—food, homelessness, mental health wellness, and others—affecting learning conditions. Carmen Poston-Farmer and Dr. Benita Rashaw coordinate the Mobile Markets as part of Fuel for Success: Nourishing the Mind, Body, and Spirit Initiative, a program supported by the College's Student Affairs Office.
The Mobile Markets operate with support from student, faculty/staff, and community volunteers. Information on the initiative is available at montgomerycollege.edu/fuelforsuccess.forward."
Images courtesy MCTV