Erica Brizuela has a two-year-old son, works as a waitress, and takes classes at Montgomery College. Single parents like Brizuela, 23, rarely have time to get together with other single parents, or attend workshops, no matter how helpful they promise to be. When she heard about the Single Parent Conference at the College's Rockville Campus, with child care provided, Brizuela decided to attend. She is glad she did.
"I attended five workshops, and they were all very informative," Brizuela says. "The resume writing workshop was my favorite. I learned just how much has changed since high school."
Odessa Davis also attended. She has an eight-year-old son, attends MC part time, and works as a teacher's assistant at Churchill High School. Before coming to MC, Davis, now 29, started a group for single parents, parents, and adults called Back on Track, which she is bringing to MC this fall as a student-run organization.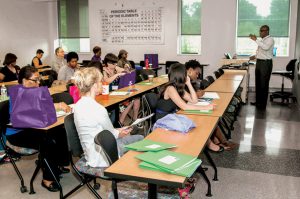 Davis attended two workshops: Dating as a Single Person and Housing—Landlord and Tenant Rights, Finding Affordable Housing. "I learned that it's okay to wait to introduce new adults in my life to my child," Davis says. "And it was great to meet other parents who work, go to school, and have similar issues."
The August event provided a rare opportunity for single parents like Brizuela and Davis to get information tailored to their educational, career, and personal goals. Keynote speaker Nicole Lewis spoke about her own experiences as a teen parent, including finishing college after becoming a mom. She is the founder of Generation Hope, an organization promoting success for young and/or single parents up to age 23.
The conference's workshops focused on practical matters: building and managing credit, paying for college, home and vehicle maintenance, and living in multigenerational households. A significant target group was teen parents.
"To my knowledge this is the first time an event like this has been held in Montgomery County," says Beverly Coleman, event organizer and director of the College's Educational Opportunity Center. She opened the all-day event with some startling statistics: "In 2014, more than 60 percent of families living in poverty in Montgomery County were single, female-headed households," she told participants. "In 55 percent of those households, the female head had only a high school diploma or less."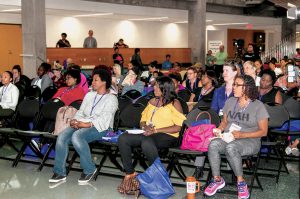 Brizuela says, "I am planning to break those statistics. Having events like this is just one way that MC is helping people like me. Faculty and staff here know you are here to transform your life. They know students are the future leaders, and I don't think they get enough credit for what they do to help us get to our life goals."
The conference was free and open to the public. MC staff teamed with community partners, including the Montgomery County Health and Human Services Department, Montgomery County Public Schools Head Start, the City of Gaithersburg, the Commission for Women, Family Services, Inc. (Gaithersburg), and several nonprofit organizations and county agencies that serve single parents. Event co-sponsors included United Bank, the City of Gaithersburg, and Subway.
Photography by Dustin Gates