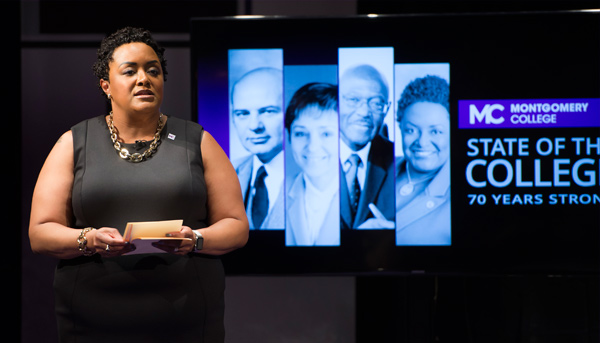 At the sixth annual State of the College in March, Dr. Pollard was joined by three former College presidents: Dr. Hercules Pinkney, Dr. Charlene R. Nunley, and Dr. Robert E. Parilla. During her introduction, Pollard drew comparisons among their tenures—which among them spans 37 years of the College's 70-year history—as well as differences (e.g., budgets, faculty and staff numbers, tuition rates, and budget dollars).
After revisiting their greatest challenges, strategic achievements, and leadership philosophies, Pollard asked them to name their favorite part of the job. Parilla quipped: "retirement!" before waxing eloquent: "Seeing students come in with dreams, accomplish things… watching the faculty grow, and listening to their stories," he says. "Those were inspirational times."
Pinkney's favorite part of the job was commencement. "Seeing students with their very supportive families, and shaking the hand of each graduate. … I shook my own daughter's hand at commencement," he says. Pinkney served one year as president, after returning from retirement (formerly, he served as vice president and provost of the Germantown Campus).
Nunley, who Skyped in from Daytona Beach, where she was on spring break, says she loved every part of the job. "I got to change lives every single day I went to work."
Photography by Pete Vidal