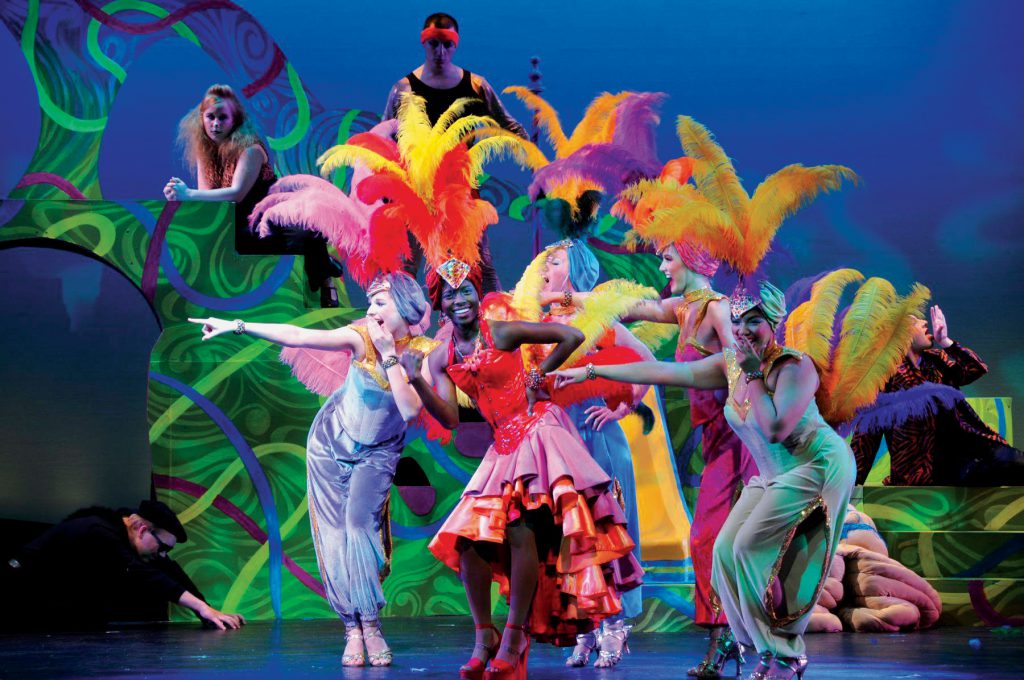 Summer Dinner Theatre Celebrates 40 Years
No story about the College's Summer Dinner Theatre would be complete without a chat with Dr. Gerry Muller, who was one of the project's founding faculty.
"In 1967," says Muller, "the chair of the Music Department wanted to produce an opera. The opera, Die Fledermaus, was produced in the new Fine Arts Arena. It was a success and by 1968 we were producing musicals and a strong summer theater project that included both opera and musical theater."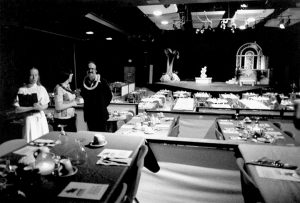 In 1976, Muller's opera, Joshua, was produced in the spring. With its success, an additional production of the opera was performed as a summer work in DC's Lisner Auditorium, but failed to yield the same success. The next fall (1977), the student theater got permission to produce You're A Good Man, Charlie Brown in the cafeteria as dinner theatre.
"Dinner theatres were popping up all over," says Muller, "and it was becoming a very popular form for the musical theatre."
Charlie Brown was a success, and everyone involved suggested the department make the summer theater project as a dinner theater. The Fantasticks and Li'l Abner were chosen as the two productions.
"Student activities and cafeteria staff got involved, and the rest, as they say, is history," says Muller.
Since 1977, Montgomery College students have been bringing classic Broadway musicals to life. An annual event, the Summer Dinner Theatre (SDT) features aspiring performers, artists, and theatre technicians from the College's music and theatre departments, along with members of the community. As part of the SDT company, students work with professional directors, choreographers, music directors, and designers to create two productions. Students also serve as waitstaff at each performance, while theatregoers enjoy a buffet dinner before the show.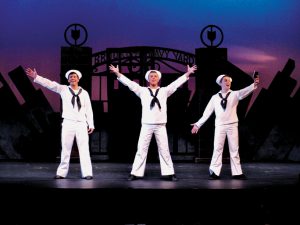 The Summer Dinner Theatre program began as a Montgomery College internship program for students interested in working in the musical theatre industry. Intern students could specialize in performance or stage production while being mentored by professional staff. They could master classes in improv, makeup and wig design, choreography, auditioning, stage management, and business aspects of theatre production, taught by professionals from Washington, DC and New York.
SDT interns have gone on to work for Arena Stage, Cirque du Soleil, Washington Savoyards, Woolly Mammoth Theatre, American Dance Institute, Maryland Opera Society, Atlas Performing Arts Center, and The Capital Fringe Festival.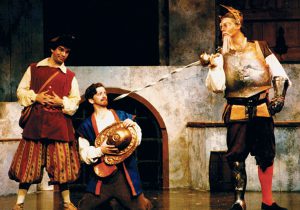 Each year, auditions for Summer Dinner Theatre cast—singers, actors, dancers—and interviews for technicians begin in early May. After callbacks, a cast list is assembled, and rehearsals begin. Rehearsals lead right up to show openings in June and July, respectively. A typical summer will involve 70 actors, 15 technicians, and 12 to 14 College interns.
Throughout its 40 seasons … The 1978 Godspell season featured Alyson Palmer '80 of the pop rock band BETTY and Grammy nominated singer/songwriter Tori Amos '83. Members of the SDT company have earned accolades for outstanding work. Brad Nacht starred on Broadway in Billy Elliot and The Addams Family. Several have received Helen Hayes Awards, including Brad Oscar '81, Priscilla Cuellar '04 (2013), sound designer Matt Nielsen '95 (2007, 2009, 2013), and Lawrence Muncey '86, associate artistic director at Toby's Dinner Theatre.
—Diane Bosser
Photos courtesy Summer Dinner Theatre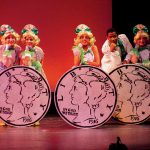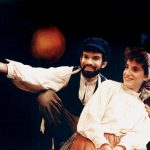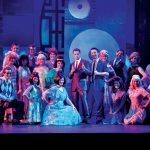 ---
Summer Dinner Theatre Since 1977
1977   The Fantasticks & Li'l Abner
1978   Godspell & South Pacific
1979   Paint Your Wagon & Little Mary Sunshine
1980   Man of La Mancha & Carousel
1981   The Unsinkable Molly Brown & Camelot
1982   Mame & Guys and Dolls
1983   Oliver! & Kiss Me, Kate
1984   Gypsy & The Music Man
1985   Damn Yankees & Pippin
1986   The Fantasticks & Hello, Dolly!
1987   South Pacific & Bye Bye Birdie
1988   Sweet Charity & The Pajama Game
1989   Annie & Annie Get Your Gun
1990   Fiddler on the Roof & 42nd Street
1991   Brigadoon & The Boys From Syracuse
1992   Carousel & Anything Goes
1993   The Music Man & Kismet
1994   Meet Me in St. Louis & Bells Are Ringing
1995   Theatre Arts Renovation (no shows)
1996   Man of La Mancha & Oklahoma!
1997   The Sound of Music & West Side Story
1998   Camelot & The Wiz
1999   Guys and Dolls & Bye Bye Birdie
2000   Once Upon a Mattress & Crazy For You
2001   The Pirates of Penzance & 42nd Street
2002   South Pacific & On The Town
2003   Me and My Girl & Hello, Dolly!
2004   Anything Goes & Kiss Me, Kate
2005   The Music Man & Annie Get Your Gun
2006   Damn Yankees & Thoroughly Modern Millie
2007   Dames at Sea & Ragtime
2008   Evita & Disney's Beauty and the Beast
2009   Cabaret & All Shook Up
2010   Brigadoon & Crazy For You
2011   Aida & Meet Me in St. Louis
2012   Hairspray & Fiddler on the Roof
2013   The Pajama Game & The Wiz
2014   Seussical the Musical & Les Miserables
2015   A Funny Thing Happened on the Way to the Forum & Legally Blonde
2016   Catch Me If You Can & Side Show