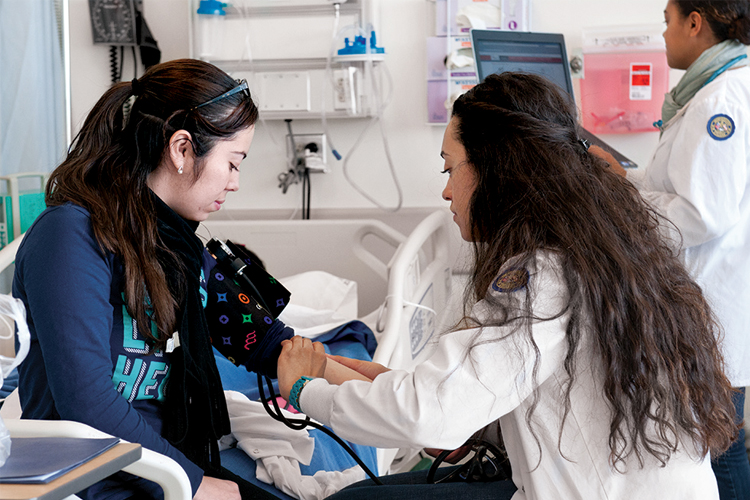 Starting this fall, nursing students can begin the process of dual enrollment with the University of Maryland. The opportunity puts them on the fast track toward bachelor's degree (BSN) attainment, which is quickly becoming the new industry higher education standard for RNs.
The Institute of Medicine (IOM) issued its new standards in 2010, in The Future of Nursing Report, which coincided with sweeping changes in the health care industry wrought by the Affordable Health Care Act. One recommendation particularly resonated with MC's nursing program: the 80/2020 recommendation, which calls for 80 percent of nurses working at the bedside to have a baccalaureate degree by 2020. Approximately 50 percent of nurses in the United States have a BSN.
The higher level of education is deemed necessary to move the nursing workforce to an expanded set of competencies, especially in the domains of community and public health, leadership, systems improvements and change, research, and health policy.
"Most health care today," states the IOM report, "relates to chronic conditions, such as diabetes, hypertension, arthritis, cardiovascular disease, and mental health conditions, due in part to the nation's aging population and compounded by increasing obesity levels."
Historically, nurses in the United States were trained to treat acute illness and injury, rather than chronic conditions. Today's patients require more advanced care; and the care environments are more complex with the advent of technological tools and information management systems, as well as increased collaboration for patient care across teams of health care professionals.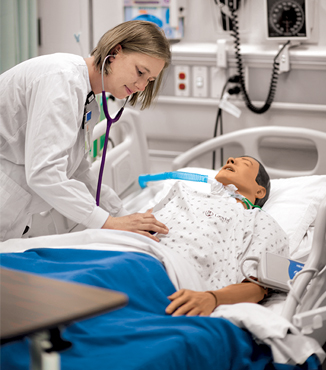 The dual enrollment program with University of Maryland School of Nursing (UMSON) gives students in the MC nursing program the means to continue working toward the BSN with no lapse in their education.
Under the agreement with Maryland, brokered by department head Barbara Nubile (now retired) and Rebecca Wiseman, associate professor and chair of the UMSON program at the Universities at Shady Grove, students will have simultaneous admission into MC's associate's degree (AS) program and UMSON's BSN program, while they satisfy the requirements of both schools. Students receive transfer credits for their completed coursework, and they have special student status that allows them to take UMSON courses while working on their AS.
Laurie Williams, academic progression manager, will work behind the scenes to implement the program and work with students as a liaison between MC and UMSON.
The nursing program currently has articulation agreements with local schools: George Washington University, Trinity Washington University, Towson University, Stevenson University, and University of Maryland School of Nursing. Others include Chamberlain College of Nursing (Va.), and online programs at Walden University, Drexel University, and Excelsior College. Under those agreements, the students' block of credits are awarded based on having a Registered Nurse (RN) license—meaning only RNs with active licenses receive upper-division nursing credits in the program they are entering—according to the Maryland Board of Nursing.
The UMSON agreement is the first dual enrollment program for nursing, and is supported in part by a Maryland Higher Education Commission grant. The first cohort of MC students will start at Maryland in spring 2017.
---
Nursing Numbers
At MC
128
qualified applicants admitted every semester to the nursing program
---
In Montgomery County
6,900 or 18%
net new health care jobs in 2012-2017, according to Workforce Trends in Montgomery County, Maryland
---
Across the US
3 million nurses =
the largest segment of the US health care workforce
7%
nurses who are men
More minority nurses are needed to serve the changing US population.*
*Source: Institute of Medicine of the National Academies Future of Nursing report, report brief, October 2010 "Focus on Education"