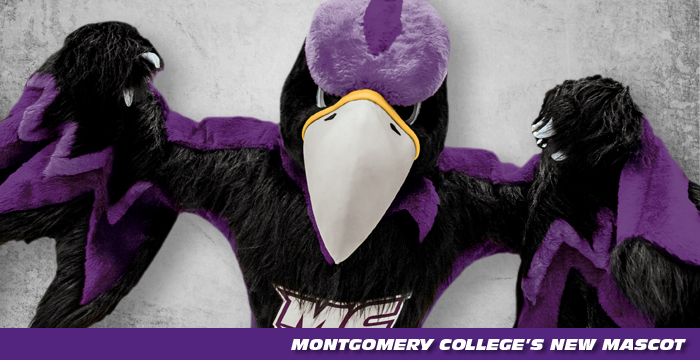 By Jill Fitzgerald
Ushering in a New Era in Sports—and Giving Modern Athletes Their Wings
Die-hard fans may remember "Malice at the Palace," the basketball game-turned melee between the NBA's Indiana Pacers and Detroit Pistons in 2004. That aside, November 19 held no significance in the annals of sports history—until now.
On November 19, 2013, the new Montgomery College Raptors mascot "took flight" in front of a capacity crowd at the Rockville Campus, capping a two-year transition to become a One College athletics program.
In its illustrious 60-plus year history, the College won hundreds of Maryland Junior College Athletic Organization (MD JUCO) championships, as well as several National Junior College Athletic Association (NJCAA) titles, with many teams from Germantown, Rockville, and Takoma Park.
During that time, thousands of student athletes suited up in burgundy, green, or blue uniforms to represent the Knights, Gryphons, and Falcons, respectively. High school basketball coaching legend Morgan Wootten '52 played guard at Takoma Park, NBA great Jerome Williams '94 dominated at Germantown, and Sonia Basma '11 led Rockville's women's soccer team to a national championship in 2011.
That year, an NJCAA rule change allowed students attending a multicampus school to play for another campus, provided that no other campuses had that same sport. To comply with the NJCAA, Montgomery College merged all sports with multiple teams under the ìone college, one teamî concept.
The Raptors became the College's official name in March 2012, after a vote from students, faculty, staff, and alumni.
But the College decided to take community involvement one step further by launching a design competition for faculty, staff, students, and alumni to envision the look of the mascot.
After receiving more than 70 entries, art student Felipe Collazo '13 submitted the winning entry. He spent the summer refining his design with the Collegeís Office of Communications, in anticipation of the November 19 unveiling. Collazo, a native of Uruguay, said the Raptor spoke to his own experience as a Montgomery College student. "I wanted to create a design that reflected the determination, intelligence, and diversity that makes up the Montgomery College student body," he said.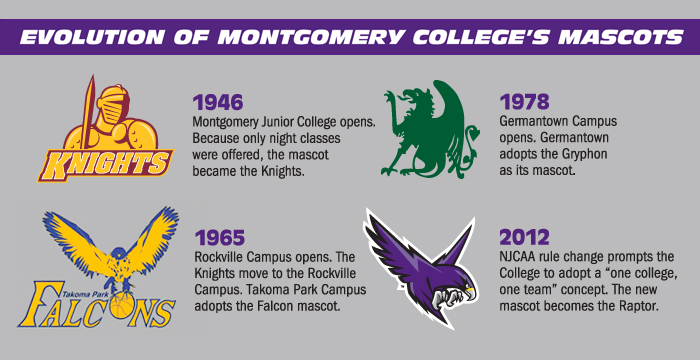 ---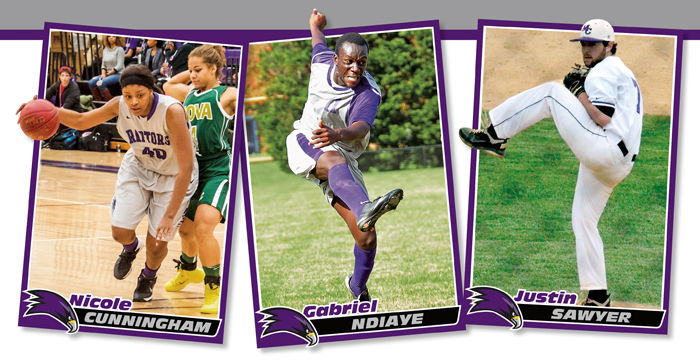 Raptor Athletes

By Jill Fitzgerald
Montgomery College athletes do not receive scholarship money to play sports. They often juggle many obligations in pursuit of their dreams. These are three athletes who not only wear the uniform, but also embody the spirit of a Raptor.
Determined to Keep Her Eyes on Her Dreams
Nicole Cunningham arrived at the College in August 2013 with aspirations of playing in the WNBA. The 21 year old, once recruited by womenís basketball powerhouses such as Duke and University of Maryland, wanted to "get back to what I love doing," she said.
What kept Cunningham out of the game for nearly three years? The birth of her other two loves—her children, Harmony (3 years old) and DeSean (2 years old) Harvey. "Having children made me more focused and more determined to make my dream come true," Cunningham said. "But now, I have a back-up plan."
"I want to be a pediatric nurse. I want to help people with young children the way people have helped me," she said. She plans to get an associate's degree in nursing at the College, and transfer to a four-year school to play basketball and complete a bachelor's degree in nursing.
Cunningham, a 6' 2" center, led the team in rebounds with 9.7 per game. She finished among the top scorers, with 14.3 points per game.
Cunningham said the team concept extends beyond the basketball court. "Sometimes I have to bring my kids to practice," she said. "Everyone—coaches and players alike—helps me with the kids. It's like a family."
After a Long Flight, He Found His Footing
Gabriel Ndiaye, a 20-year-old freshman, tried out for the Raptors men's soccer team in August 2013 after seeing a flier in the Rockville Campus library. Coach Pedro Braz hadn't recruited Ndiaye—in fact, he didn't even know him.
Encouraged by his cousin and his aunt, Ndiaye, a native of Gambia, a West African nation, came to the United States to attend Montgomery College.
"I tried out just to have fun," he said. "I didn't know it was that serious." Ndiaye impressed the coaches, even though he'd never played organized soccer.
Ndiaye saw little action the first few games. "I had to adapt my style," he said, "I had to learn to come to the ball."
It didn't take long for Ndiaye to find his footing. By the end of the season, he led the nation in goals scored (35), he helped the Raptors to a berth in the NJCAA Division III Soccer Tournament, and he earned first team All-American honors.
Coach Braz said Ndiaye's play will likely earn him more accolades next season. "There's a lot of recruiting interest in Gabriel," said Braz, "Schools like Ohio State, Virginia Commonwealth University (VCU), and University of Maryland, Baltimore County (UMBC), to name a few."
"Next year I would like to score more goals—and to help my team to win a national championship," said Ndiaye. "But to get a scholarship to play soccer would be a dream come true."
Talon-ted on the Mound and in the Classroom
Justin Sawyer '13 wanted to follow his family's tradition of attending the University of Maryland. To save money, the home-schooled student, who played high school baseball at Covenant Life School, accepted a Board of Trustees academic scholarship to attend Montgomery College. He wasn't seeking athletic fame, but he wanted to continue playing baseball.
After sitting out most of his first year with a shoulder injury, the right-handed pitcher helped his team to a 2013 MD JUCO championship, as well as an appearance in the NJCAA Baseball World Series in Tyler, Texas.
"I had a great time as a Raptor baseball player," said Sawyer. "I enjoyed the trips to Florida and Texas. I loved being part of a team, and Coach Rascher gave me a lot of leadership experience."
After the 2013 campaign, several baseball players, including Sawyer, took post-season awards. Two players earned All-American status for their athletic ability, while Sawyer received an NJCAA Award for Superior Academic Achievement for receiving a 3.87 grade point average.
After graduating with honors from Montgomery College, Sawyer transferred to the University of Maryland's Smith School of Business to study marketing and supply chain management. But it's not all business for Sawyer at Maryland. He's playing club-level baseball—and he's suiting up as one of the Turgeonites, a group of students who dress up in suits and ties to support men's basketball coach Mark Turgeon and his staff.
---
Hatching An Idea That Took Off
In his spring 2012 graphic design class, Felipe Collazo '13 took on an optional assignment from Professor Valerie Burghardt: designing the College's new Raptor mascot. "I'd always wanted to do a sports-styled illustration, so it was a great opportunity," said Collazo.
Collazo's illustration bested more than 70 designs submitted by students, faculty, staff, and alumni for the mascot competition, providing the new look for Montgomery College's Raptors.
Collazo received a $500 Montgomery College Foundation stipend for winning the competition, and he worked in the College's Office of Communications over the summer of 2013. Seasoned designers took Collazo under their wings, and he created the final iteration of the mascot. After receiving minor tweaks from Phoenix Design Works, a New Jersey-based mascot design firm, the Raptor took flight.
Collazo is putting his prodigious skills to use at the Maryland Institute College of Art. He received two foundation transfer scholarships totaling nearly $3,500 to continue his studies—and take his design career to new heights.