African Diaspora Entrepreneurship Summit(AfDES) & MC
October 12, 2018 @ 1:00 pm

-

6:00 pm
This is the second year under the AfDES title, but is a follow up to a previous program called the African Diaspora Marketplace III(ADMIII) which was held in Silver Spring.  You can watch a snippet from last year's AfDES at: https://www.youtube.com/watch?v=FBIuis9U2kc
The conference:
Highlights opportunities and successful entrepreneurs in Information Technology, Biohealth, Non-Profits, Agribusiness and other Small Business
Enhances the vitality of the Montgomery County Economic Ecosystem by showcasing untapped yet enthusiastic demographic of African entrepreneurs
Provides awareness for students, young professionals, and others who to launch of their business in Montgomery County
Supports networking of entrepreneurial-minded people
Interested students can contact Mr. Suraphel directly at samuel@mansacolabs.com by October 2, 2018.
Description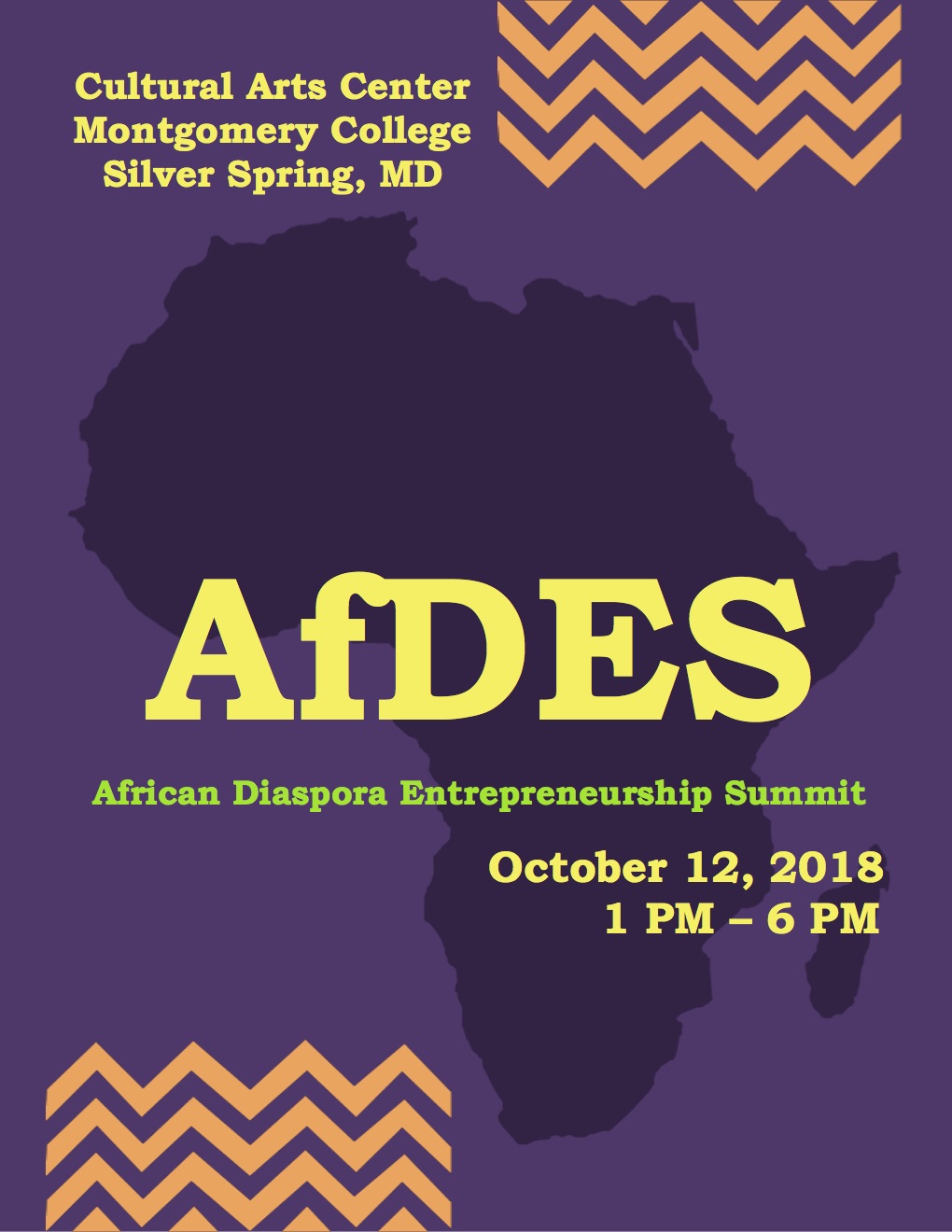 In 2015, the African Affairs Advisory Group of Montgomery County was selected to host the third African Diaspora Marketplace (ADM III). Launched in 2009 by USAID and Western Union, ADM III was an initiative that promoted sustainable economic growth and job creation in Africa by supporting African diaspora entrepreneurs. The event was a success and saw 35 innovative finalists from a pool of 400 applicants from across the US advance to the finale.
It is from this event that the African Diaspora Entrepreneurship Summit was born. The overwhelmingly positive response to ADM III from area entrepreneurs revealed a need for platform for local African born entrepreneurs and AfDES intends to do just that. Fifteen percent of the 1.4 million foreign born residents of the Metro Washington Statistical area (Washington MSA) are African. Ethiopians make up the largest proportion of continental African with Ghanaians, Nigerians, Cameroonians, Liberians, Sierra Leoneans and South Africans also represented. There are over 1200 Ethiopian-owned businesses in the region alone and when combined with other African born entrepreneurs a formidable force emerges.
Check out last year's AfDES, then register for this year's exciting and informative session
Co-Produced By: Immigrant Community Services, Help Africa, Mansa Colabs, I/O Spaces
Other Partners Include: African Affairs Advisory Group (AAAG) of Montgomery County, Maryland.